Home > Pokemon Scarlet and Violet Walkthrough > Chapter 8: Levincia Gym
Chapter 8: Levincia Gym
East Province (Area One)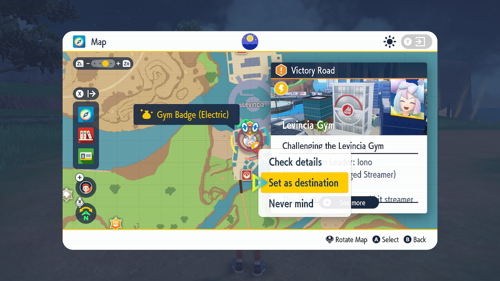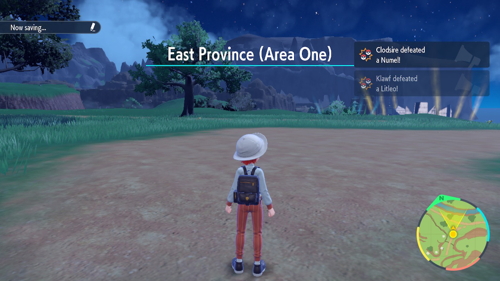 Our next objective is to take on the Electric-type Gym in the eastern city of Levincia. This means you'll want to train up any Ground-type Pokémon you have in preparation. Go ahead and mark Levincia Gym as a destination on your map. If you mostly recently finished the Team Star Fire Crew's Base, then you should already be on the dirt path that leads to Levincia. Otherwise you should fly over to the East Province (Area One) Pokémon Center to get on the path.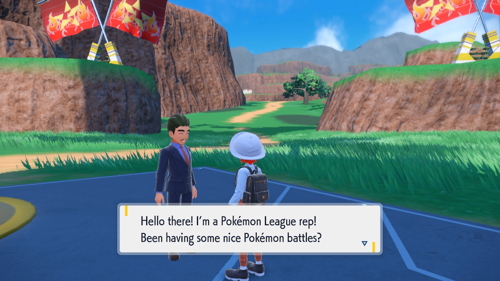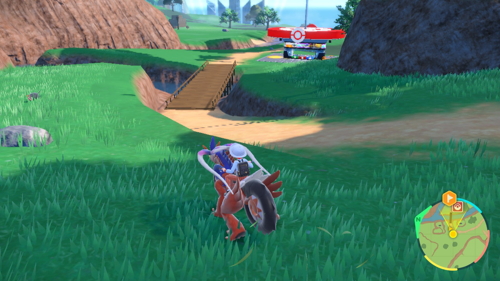 In East Proivince (Area One), you can get a Loaded Dice from the Pokémon League Rep at the Pokémon Center if you defeat five trainers in the area. You'll have to head into the grassy area to the west of the Fire Base to find that many. You can also find TM026 - Poison Tail in a crater by exploring in this area. Either way, you'll want to continue heading west on this dirt path until you reach a bridge and Pokémon Center. This will take you into East Province (Area Two).
East Province (Area Two)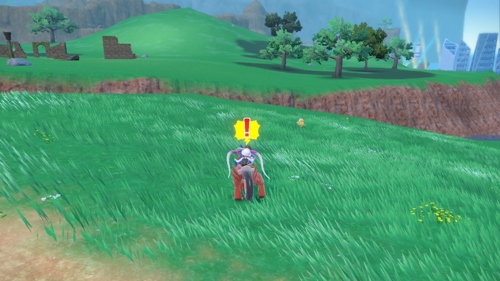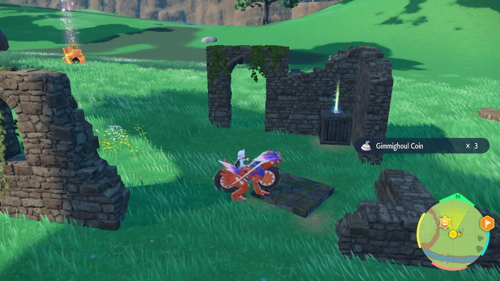 Right next to the Pokémon Center by a tree you can find TM128 - Psychic Terrain. This should be a new area, which means there will be new Pokémon to catch along this path if you'd like. There are a ton of Mangnemite on this route that are great for training up a Ground-type in preparation for this next gym. If you want you can cross the water to get to the grassy area to the left. Here you can find TM091 - Toxic Spikes as well as some Ghimmigoul Coins in the ruins. You can also find a couple trainers to battle and TM035 - Mud Shot to the far north.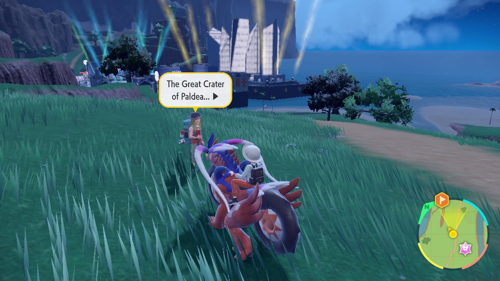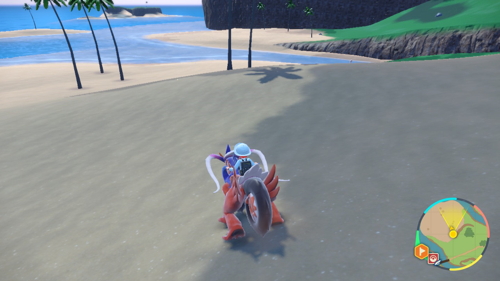 Head back to the main dirt path and continue heading north. There are several trainers along this path that you can battle if you'd like. Just before you get to the nearby Pokémon Center, there is a sandy beach off to the right that offers a new selection of Pokémon. Once you enter Levincia, check out the Pokémon Center to heal up. If you've defeated eight trainers in this area, you can speak to the Pokémon League Rep here to get TM084 - Stomping Tantrum.
Rival Battle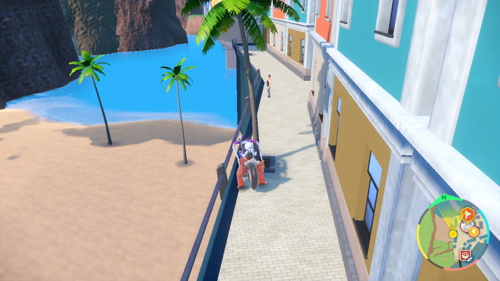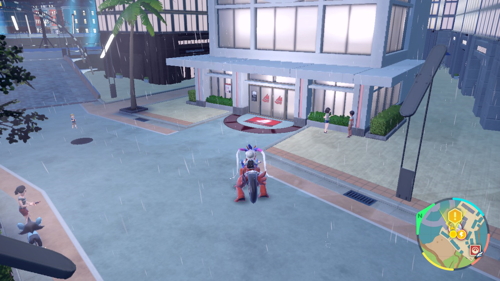 Welcome to Levincia, the large and bustling coastal city. If you head down the main street and take a left you can pick up TM015 - Struggle Bug and some other items in this little alley. If you run around and look around town you can also find TM113 - Tailwind and TM123 - Surf. When you're ready, make sure you're healed up and head over to the gym near the entrance to the city we came in at.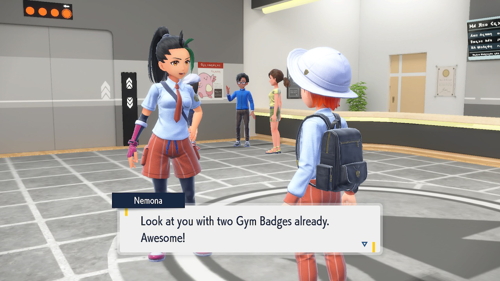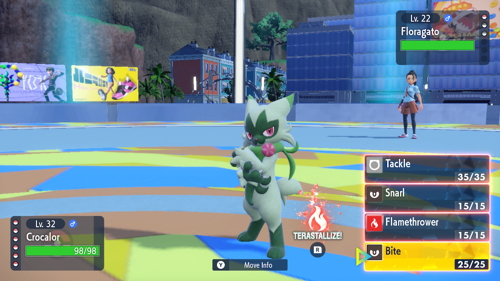 When you enter the gym, you'll get a call from Nemona. She'll then show up at the gym and challenge you to a battle. You'll then go outside to the big stage for your first "real" battle with Nemona. She has a Lv. 21 Rockruff, a Lv. 21 Pawmi, and a Lv. 22 Floragato/Quaxwell/Crocalor. The level of her Pokémon are in the low 20s, so it's likely you are quite over-leveled for this battle. It should make it fairly straightforward. She will Terastallize her final Pokémon, so it's recommended you do the same to counter her. After winning, she'll give you 3 Full Heals.
Levincia Gym Test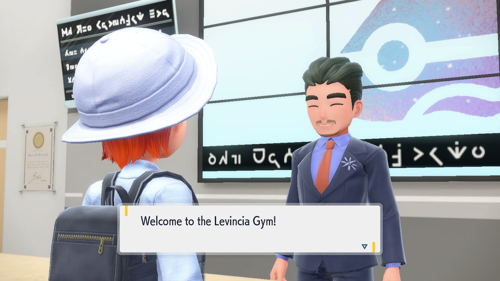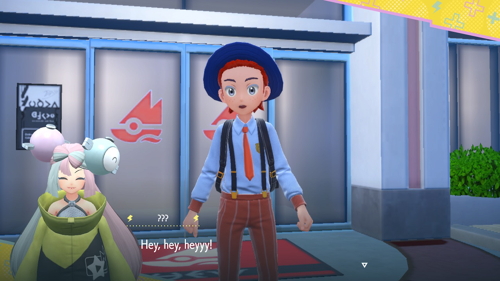 With the rival battle out of the way, we can now speak to the front desk at Levencia Gym to begin the Gym Test. Go ahead and exit the gym to start the test. As it turns out the gym leader Iono is a... Vtuber? You'll need to participate in her livestream as part of the test. Professor Clavell "Mr. Walksabout" somehow shows up and is the subject of the livestream. Your task will be to locate him on security cameras as he hides around the city. He'll run off, and your task will begin.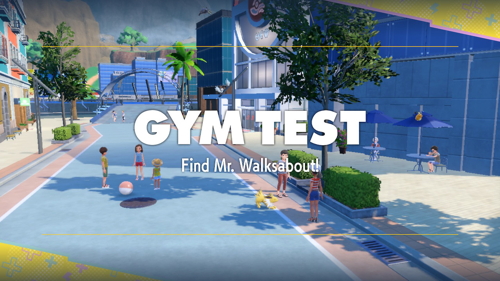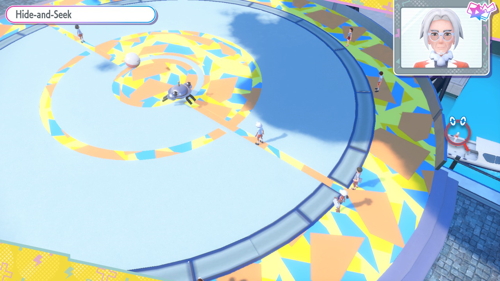 You'll be shown a series of three camera feeds and you'll need to point out Clavell with your little magnifying glass. In the first feed, he can be seen sitting at a table to the right. Between each feed you'll also need to battle a trainer. The first trainer has a Lv. 22 Luxio. In the second feed, Clavell can be found behind the counter at the Pokémon Center. The second trainer you'll need to defeat has a Lv. 22 Tynamo and a Lv. 22 Flaaffy. Note that the Tynamo's Levitate ability makes it immune to Ground-type attacks, if you were planning on rolling through with that strategy. In the final video feed, you can find Clavell to the far right sitting on a boat in the water. With that, you will have passed the Gym Test and ready to take on the Gym Leader.
Levincia Gym Leader Iono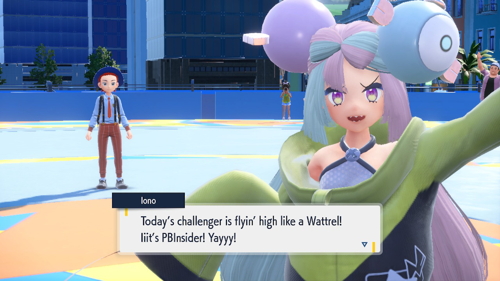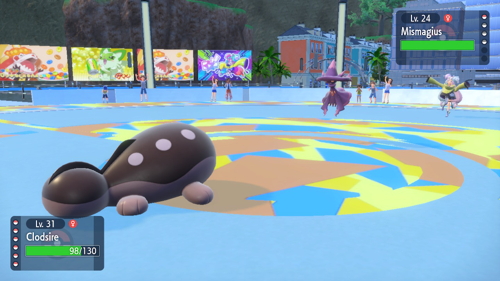 Make sure to heal up, then speak with the clerk at the front desk of the gym. Remember that this is an Electric-type gym, so you should bring a solid Ground-type along with you. However, something that knows a Rock-type move will suit you well for some of the Pokémon. He'll then take you out to the court for your battle. This battle is also presented like a livestream. Iono has a Lv. 23 Wattrel, a Lv. 23 Bellibolt, a Lv. 23 Luxio, and a Lv. 24 Mismagius. The main thing to be aware of is that Wattrel is part Flying-type and Mismagius has the ability Levitate, meaning you won't be able to use Ground-type moves against them. Rock-type moves are recommended instead. She will Terastallize her Mismagius and it has an Electric Tera Type, so it's recommended that you do the same to counter it.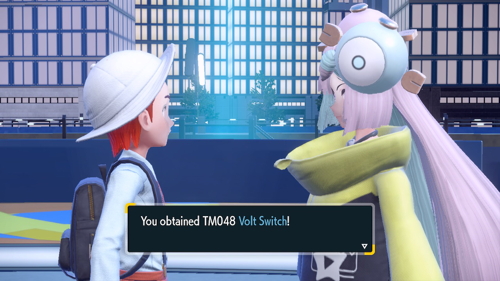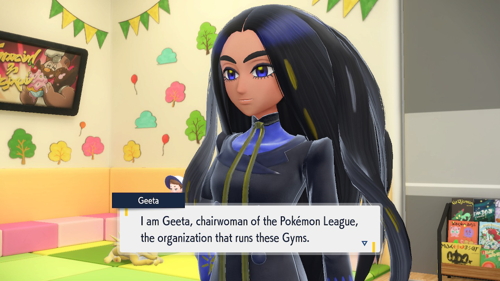 After winning the battle, you'll get the Electric Gym Badge. Pokémon up to Lv. 35 will now obey you. She'll also give you TM048 - Volt Switch. After the battle, you'll be stopped in the lobby by Geeta, who is chairwoman of the Pokémon League. She just introduces herself and doesn't say much else.
With three Gym Badges in hand, we'll be looking to take on another Titan Pokémon in the next chapter.
Back to Fire Crew Base Continue to Lurking Steel Titan