Home > Pokemon Scarlet and Violet Walkthrough > Chapter 1: The Academy
Chapter 1: The Academy
Opening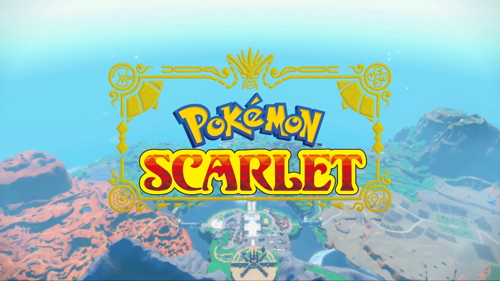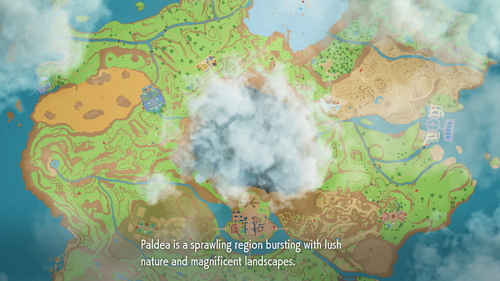 The game begins with the ability to select your language and customize your character. After you've done that to your hearts content, a cutscene will play introducing either Naranja Academy (Pokémon Scarlet) or Uva Academy (Pokémon Violet). You'll also get a little tour of the region through the eyes of the title legendary.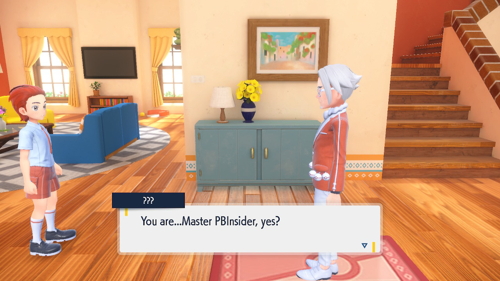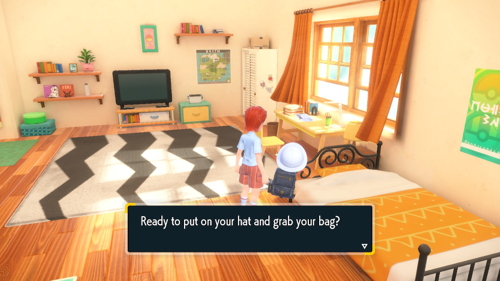 You'll have control of your character for the first time in your bedroom. Head downstairs to your kitchen and speak with your mother. After speaking with her, go check on the ringing doorbell. Here you'll find the director of the Academy, Mr. Clavell. After some dialogue with him, you're told to head upstairs. Make your way to your bedroom and pick up your hat and bag from your bed.
Choosing a Starter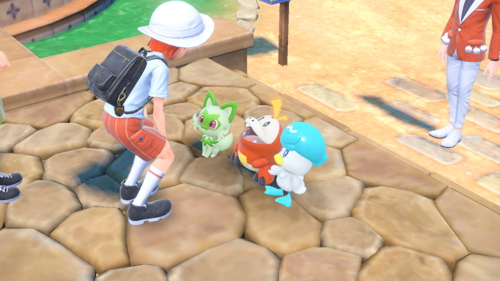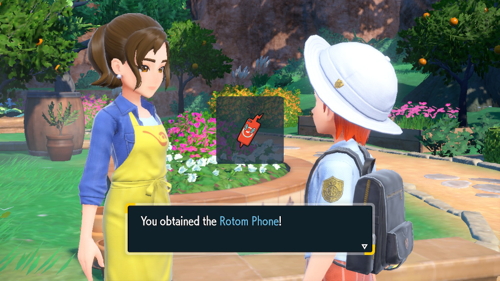 Head back downstairs and Mr. Clavell will invite you outside to get something special. This is of course the selection of your starter Pokémon. However, you won't have to make the choice right away. You'll first get to spend some time with all three of these Pokémon. Your mom will also give you the Rotom Phone. This will allow you to access the world map by pressing Y.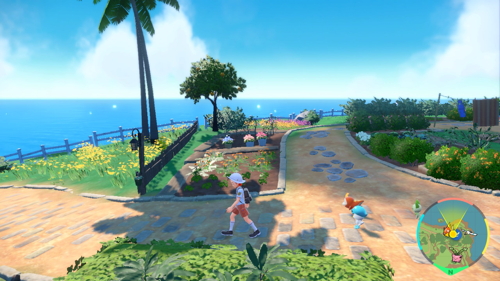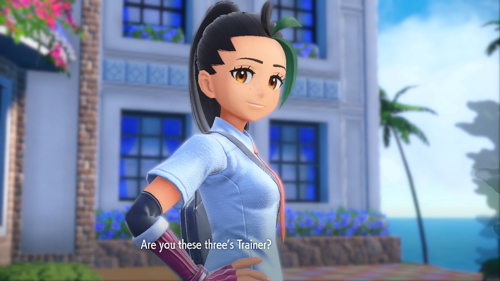 You can now head east down the path and the three starter Pokémon will follow you. After you reach a certain point, you'll be able to run and not have to walk so slowly. If you head left when you get to the stone wall you can find your first Poké Ball. Enter the gates ahead and another cutscene will play that showcases the personalities of each of the starters a little more. You'll also be introduced to your rival, Nemona.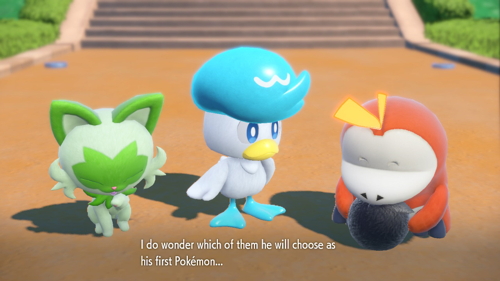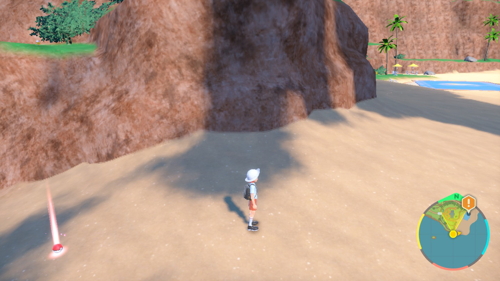 The time has come to actually make a choice about which starter you want. The options are Sprigatito (Grass-type), Quaxly (Water-type), or Fuecoco (Fire-type). Whichever starter you choose, Nemona will choose the starter that is weak against yours. She'll then invite you to join her down at the beach for your very first Pokémon battle. On your way down there you can pick up a Potion to the right. Afterward you can head straight for the battle on the arena that is set up.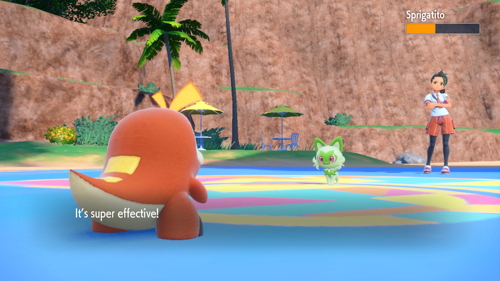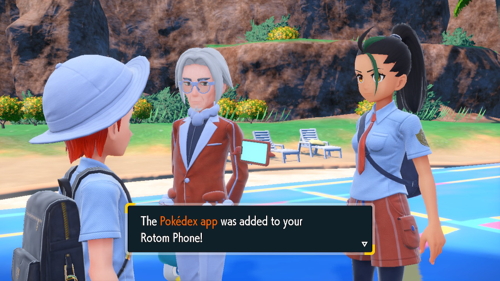 The only Pokémon that Nemona will use is the starter that she just chose, who will be Lv. 5. You should be able to make very quick work of this battle since you have the type advantage. After the battle, Clavell will add the Pokédex app to your Rotom Phone. Nemona will then invite you over for a training session on how to catch wild Pokémon.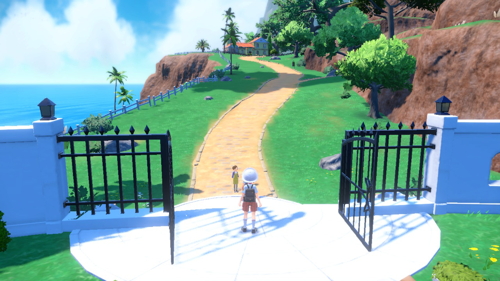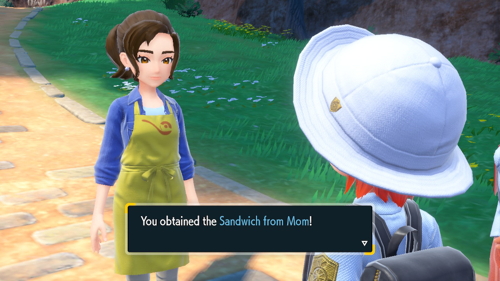 Before following Nemona, head left to the south corner of the beach to find another Poké Ball. You can then follow the map back west to meet up with Nemona and get a surprise visit from your mother. She'll give you a Sandwich that she packed for school as well as 5 Potions. Afterward, continue to follow Nemona down the path.
Poco Path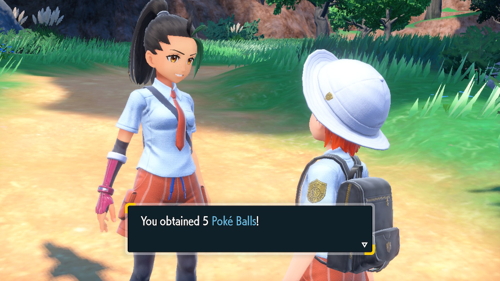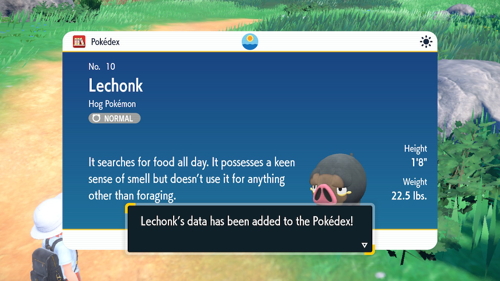 You'll find yourself at Poco Path. Nemona will give you 5 Poké Balls. You'll then be tasked with catching a Lechonk. To do so, simply attack it a couple times to weaken it and then toss a Poké Ball. Nemona will then give you an aditional 10 Poké Balls and set you off on your own. You're goal is to make your way to the lighthouse in the distance to the east.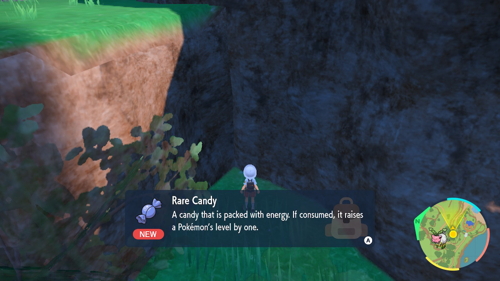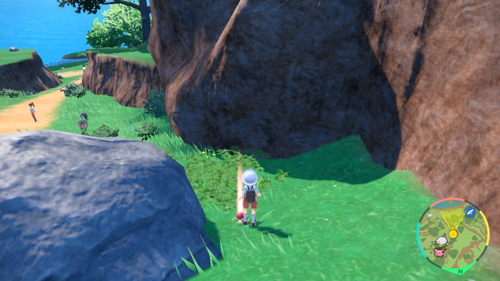 To start off, head to the cliff directly to your right and you'll find a Rare Candy. There are many item balls like this throughout the large open world, and because they are fairly easy to spot and plentiful we won't be detailing them from here on unless there is a rarer item inside. You should just pick up any that you see along your path.
There are several Pokémon on this route, so go ahead and catch and battle to your heart's content. Because Pokémon are visible in the overworld, it's much easier to catch 'em all and only engage in battles that you are interested in. Continue to head towards the lighthouse as you do so and remember to pick up all the items along the way. Nemona will eventually catch up to you and while speaking you'll both hear a loud cry. She'll then task you with finding the source of the noise.
Inlet Grotto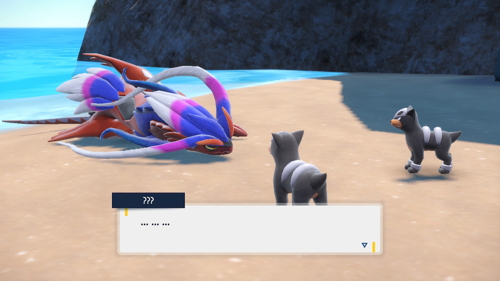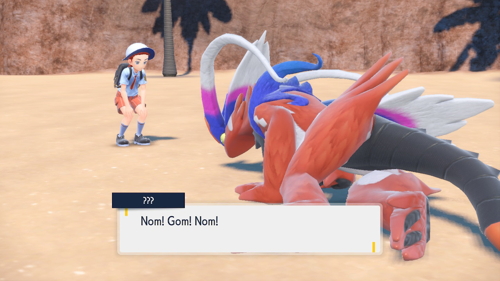 Head towards the cliffs through the gap in the fence directly ahead. This will prompt a cutscene where you'll see the title legendary of the game washed up on the beach. You'll hop down to the beach with it and check out why it's in this precarious position. You then need to offer it your sandwich, the go-to lunch choice for all title legendaries. This seems to power it up and it will lead you into the cave ahead.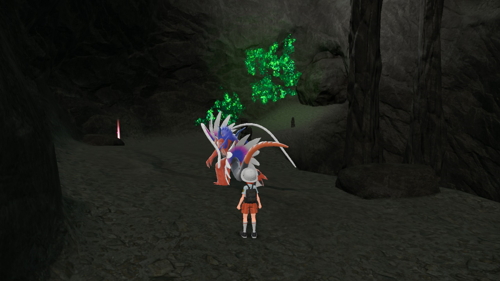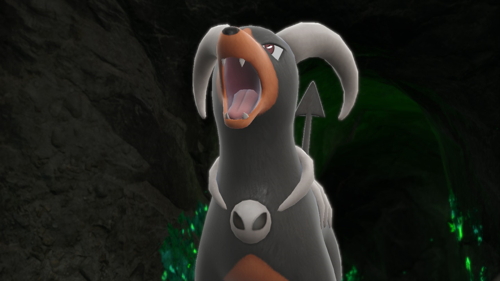 This cave is called the Inlet Grotto. Continue to follow the legendary beast in and you'll soon notice that Nemona is at the top entrance to this cave. She'll instruct you to find a way back to her. Simply follow the legendary beast along the path and pick up items and catch Pokémon if you'd like. Further up the path you'll be jumped by a Lv. 40 Houndoom. You of course won't be able to defeat it, so the legendary beast jumps in to save you.
Lighthouse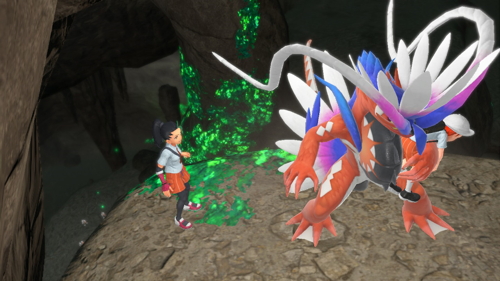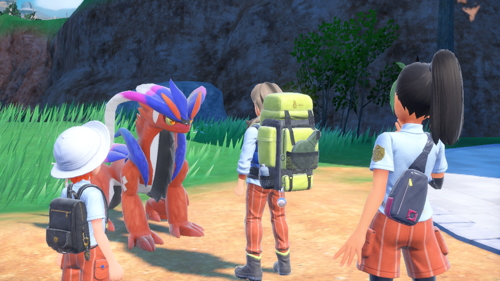 After bringing you to safety, the legendary seems to lose some of it's power again. After some more dialogue Nemona will give you TM032 - Swift. Afterward, just head for the lighthouse straight ahead. Once you get there you'll meet another student, Arven. He'll also reveal the name of the legendary beast you've found: Koraidon (Scarlet) or Miraidon (Violet).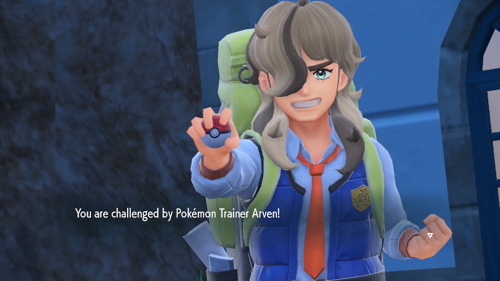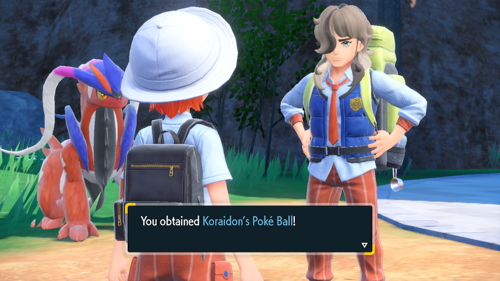 After giving you this info and a little bit of attitude, Arven will challenge you to a battle. He has a Lv. 5 Skwovet that you should be able to handle pretty easily, especially since you'll find that your team has been healed for you. Once you beat him, you'll find out that he actually has the Poké Ball for Koraidon/Miraidon and gives it to you! This means the legendary beast is now in your care, but you can't quite use it like a normal Pokémon for the time being.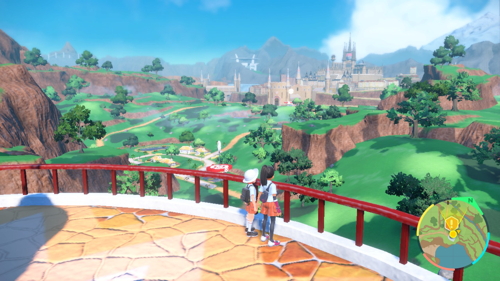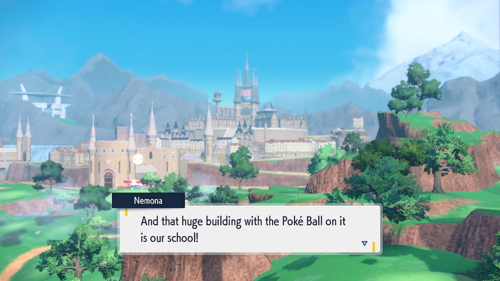 After this exchange, head into the lighthouse and climb to the top. Here you'll join up with Nemona and look out onto Mesagoza, the central city in this area where your school is located. After some more dialogue with Nemona, she wants you to head for Los Platos, which is a small town northwest of the lighthouse.
South Province (Area One)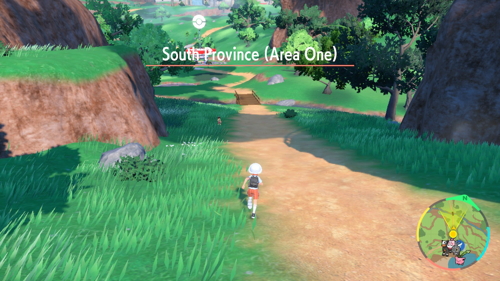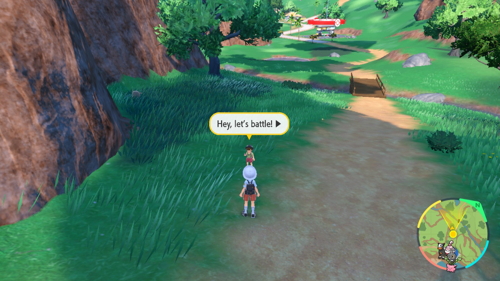 Exit the lighthouse and start heading in that direction. You'll quickly come across your first trainer battle in the wild. Instead of being forced to battle when you come into sight, you can actually choose whether or not to battle most trainers by speaking to them. They'll still have a little exclamation point (!) if they are looking for a battle. Youngster Elian has a Lv. 5 Tarountula that shouldn't give you much trouble.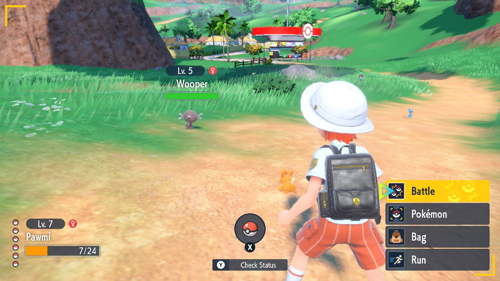 Along this little path you'll see several Pokémon for the first time, mostly Water-types. Feel free to catch any that you'd like. If you follow the little stream here to the west it will end in a waterfall where you can find TM047 - Endure. On this second little portion of the path heading towards the town you'll find another trainer, Zahira the Student, and several Fairy-type Pokémon. Continue on the path until you get to the town.
Los Platos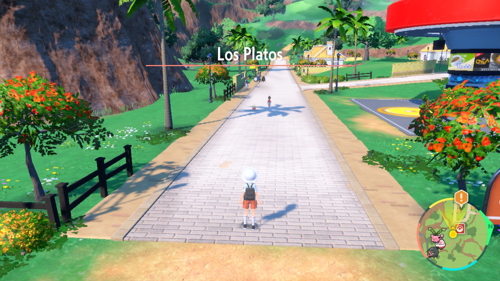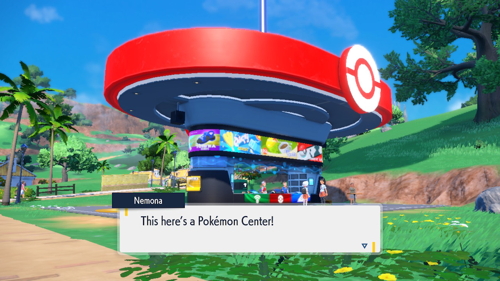 Once in town, you'll find Nemona next to the Pokémon Center. Pokémon Centers in this game are actually a combination of the Pokémon Center, Poké Mart, and a new device called a TM Machine. They are also outdoor so that you don't need to enter a building to heal up or shop. Nemona will give you some Pokémon Materials that can be used to craft TMs via the TM Machine. She will also tell you about a new mechanic: Auto Battles. This allows your lead Pokémon to automatically venture off and battle weaker Pokémon in the wild to collect various items.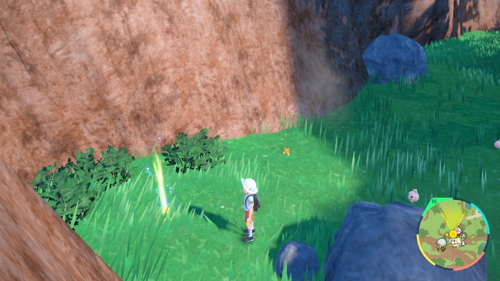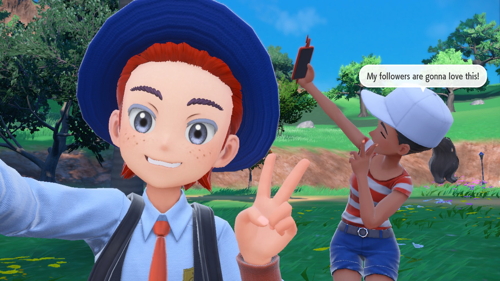 Go ahead and heal up your Pokémon while we are here. There's not much to do in this little town for now. You might notice if you try to enter some of the houses here that you actually can't, most buildings in this game cannot be entered. Instead, the residents of the buildings are usually outside of the buildings. You can try out the new auto battle feature on the weaker Pokémon in nearby areas if you want. If you head into a little corner southwest of town you can find TM041 - Stored Power. You can also find TM085 - Rest behind a bench near the pond. When you are ready you can head north of Los Platos towards our next destination, Mesagoza.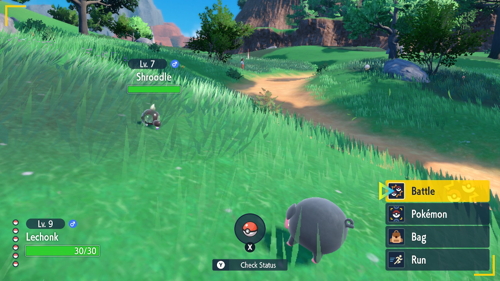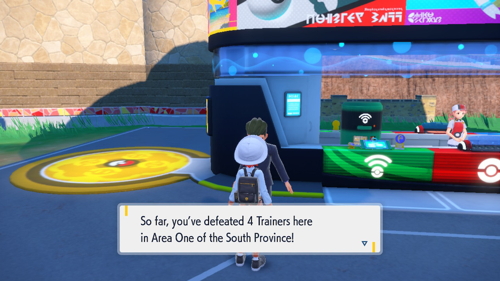 Head north of town towards the city of Mesagoza. There are a few new Pokémon along this route as well as some trainers that you can battle if you'd like. If you head east you can find TM031 - Metal Claw nested away in some hills. Hugging the cliff on the east side you can find another copy of TM032 - Swift. When you get near the city you'll find another Pokémon Center that you can heal up at. There is a Pokémon League rep near here with a yellow text box that you can speak to. If you've defeated four trainers in the area, he'll give you TM082 - Thunder Wave.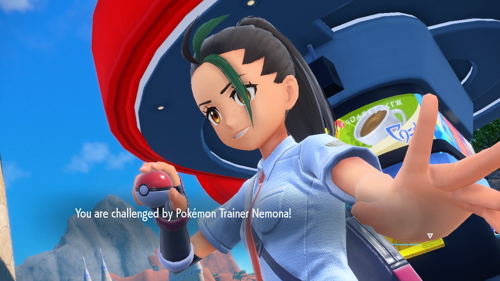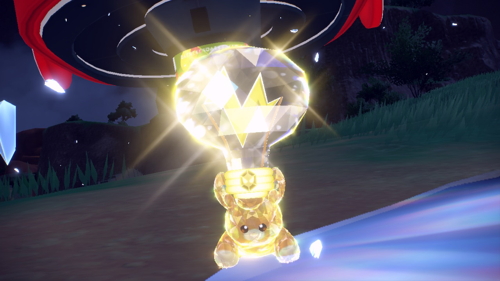 Once you are ready, approach the gates to Mesagoza. Nemona will catch up with you and want to battle. This time around, she'll use a Lv. 8 Sprigatito/Quaxly/Fuecoco and a Lv. 9 Pawmi. The Pawmi will Terastallize, a new mechanic in this game. It increases the power similar to a mega evolution or dynamax, but can also change the type of a Pokémon and it's moves. In this case, Pawmi will still be Electric-type. Once you win the battle, Nemona will give you 3 Revives.
Mesagoza City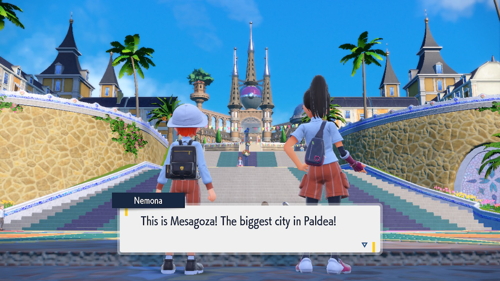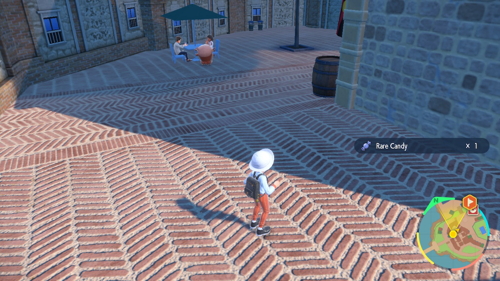 Once inside the city, Nemona will speak to you for awhile and give you some ideas of places to check out in the city. It's quite large with many shops to visit and people to talk to, so feel free to explore as much as you'd like. When you are ready, head for the large staircase in front of the school.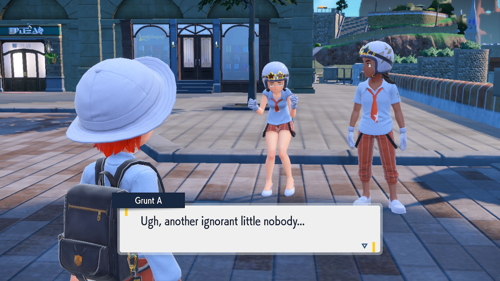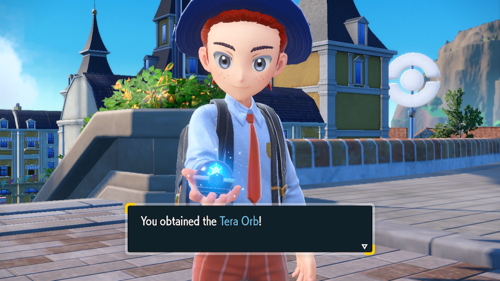 When you get about half way up the staircase, you'll have your first run-in with the antagonist group of the game: Team Star. There will be two Team Star grunts here giving a new character some trouble. You'll of course need to step in and help them out via a Pokémon battle with one of the grunts. They'll have a Lv. 8 Shroodle. After making quick work of them, Nemona will show back up and give you the Tera Orb. This will allow you to Terastallize in battle. You'll then get to battle another grunt to try it out. He'll have a Lv. 9 Yungoos. Make sure to Terastallize and you'll probably be able to OHKO him.
Naranja/Uva Academy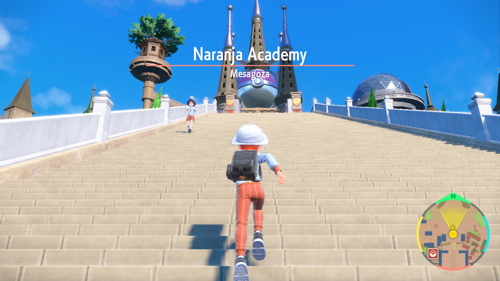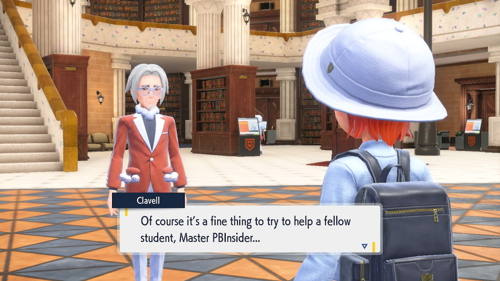 After the battles, you'll be ready to climb the staircase to Naranja Academy (Scarlet) or Uva Academy (Violet). Head straight through the courtyard and enter the main doors. You'll once again find Nemona in here. After speaking to the director about your Team Star interaction, Nemona will lead you to your first class.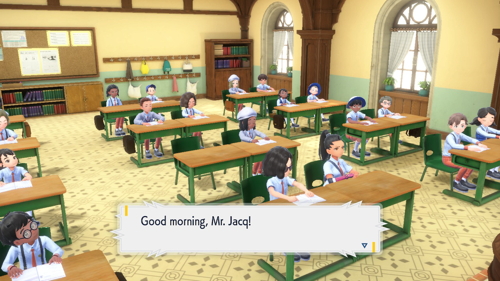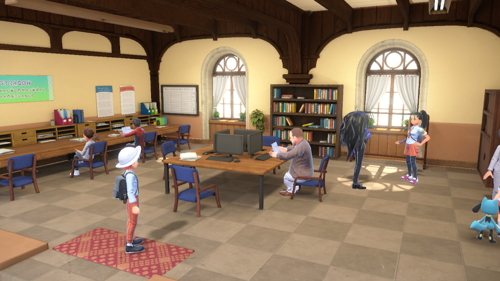 This is your homeroom class taught by Mr. Jacq. Some students will ask you some questions and then you'll be free to explore the school (I guess the class wasn't that important). Exit the room and visit the Staff Room. Here you'll find Nemona again talking to someone named La Primera. She'll then tell you about the Pokémon League and the eight gym system. She'll also mark the locations of each gym on your map.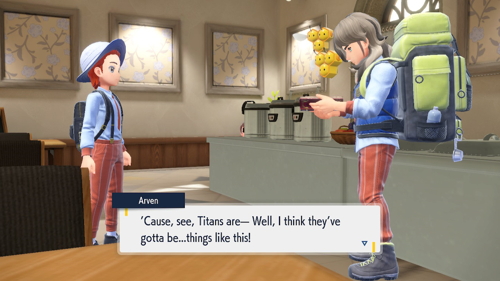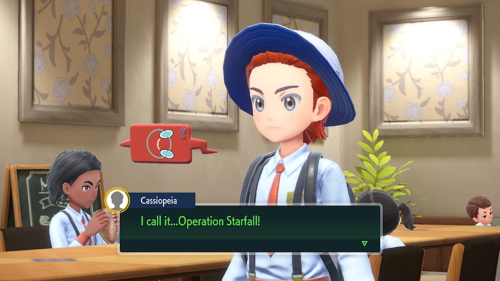 Afterward, head to the Cafeteria. Head to the back of the room and speak to Arven. He tells you about Titan Pokémon and asks for your help with them since he isn't very good at battles. He then registers their locations to your map. As you are leaving this room, you get a mysterious call on your Rotom Phone from someone named Cassiopeia. This person seems to want to recruit you to a third object, bringing down Team Star.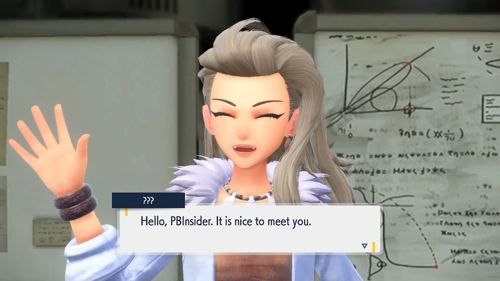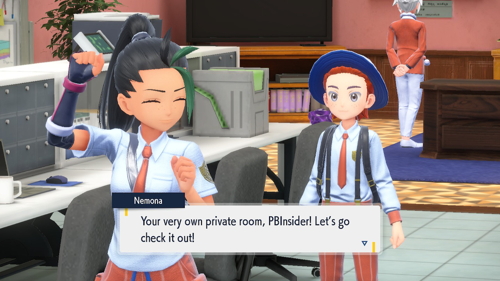 On your way out, Director Clavell will show up. You'll be called into his office shortly thereafter. If you head up the stairs to the left you'll eventually reach a screen that will let you choose what location you want to go to. Select Director's Office. Here you'll receive a video call from Professor Sada. She explains how she was once the caretaker of Koraidon/Miraidon and is performing some secret research. When you try to leave the room afterward, Nemona will show up once again. Nemona will show you your dorm room. The only thing to do in here for now is go to sleep.
The Treasure Hunt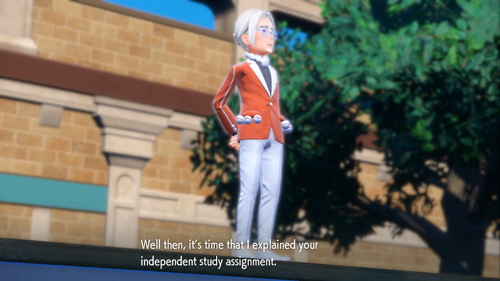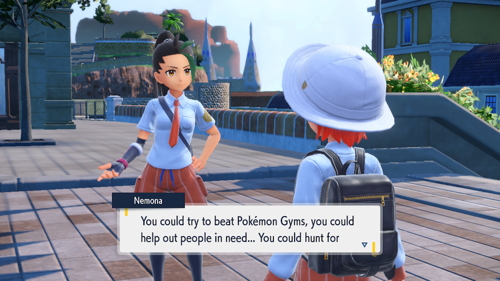 The next cutscene will be a timelapse over many days of school. When you awaken, Nemona will excitedly tell you that everyone needs to go to the schoolyard. Professor Clavell introduces the concept of "The Treasure Hunt", an independent study where you get to go off and have your own adventure. When he's finished speaking, walk through the courtyard back to Nemona. She will explain that The Treasure Hunt is an open ended assignment that allows you to choose your own adventure.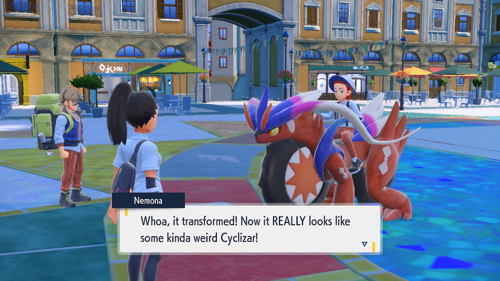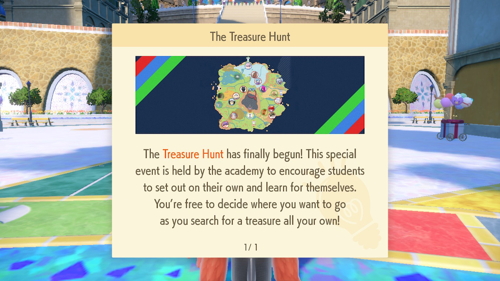 At this point, Nemona suggests that your adventure should involve defeating the gym leaders. Arven will then show up and suggest that your adventure should be seeking out Titan Pokémon. You'll then get a call from Cassiopeia who wants you to defeat the leaders of Team Star. After this, you'll find out that you can actually ride Koraidon/Miraidon to move around faster.
From this point on, you're free to choose whichever path interests you on your adventure. You can defeat gyms, capture Titan Pokémon, or take out the Team Star leaders. The order in which you complete any of these tasks is up to you. For the sake of the walkthrough, we'll have to make a decision based on a logical route starting in the next chapter.
Continue to Cortondo Gym