Home > Pokemon Scarlet and Violet Walkthrough > Chapter 13: Montenevera Gym
Chapter 13: Montenevera Gym
West Province Area Three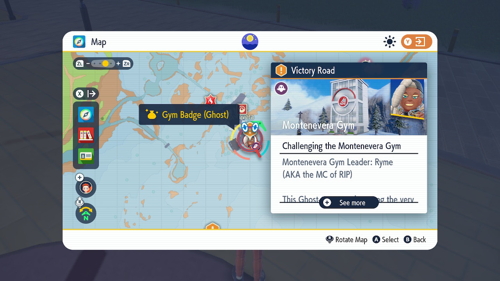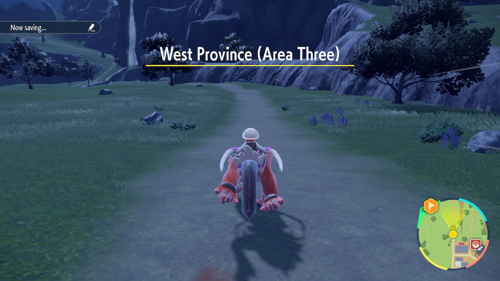 Our next objective is to take on the Ghost-type gym in the city of Montenevera. It's a city in the snowy fields in northern Paldea. You'll want to set the Glaseado Mountain Pokémon Center as a destination on your map, as you'll need to pass through it on your way to the city. There are a few different ways to get there, but we're going to start from Medali where we just finished a gym and head east. So fly to the Medali (East) Pokémon Center if you're not already there.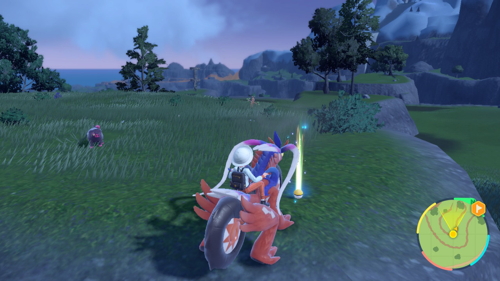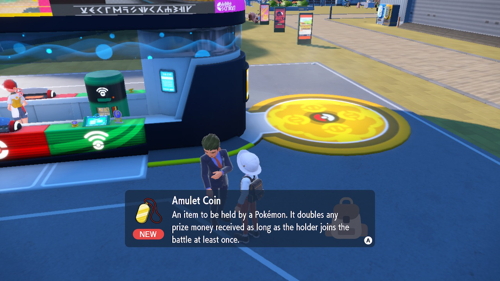 Make sure to heal up and then set off on the dirt path that is northeast of Medali. As usual, there are plenty of new Pokémon, trainers, and items that you can pick up along your way. If you do defeat five trainers in this area, you can go back to the Medali (East) Pokémon Center and get the Amulet Coin from the Pokémon League Rep. On one of the plateaus to the left you can find TM052 - Snowscape. Further along once you get near the bridge you can find TM009 - Thunder Fang on a little hill right by the path.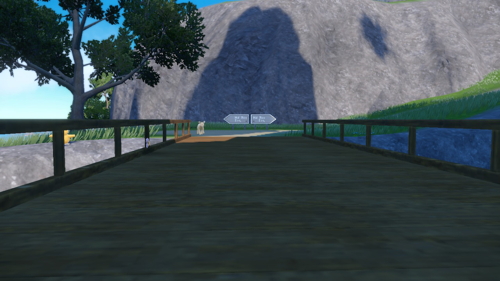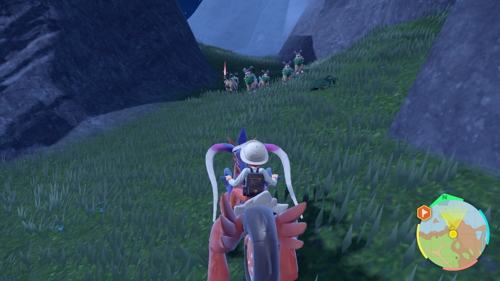 Once you cross this bridge, you'll see a sign and a fork in the road. Make sure you head to the right in the direction of the Glaseado Mountain Path. This path steadily heads up the mountain and is lined with trainers. A little further ahead the path will split off to the right a little. Take this very steep path up into Glaseado Mountain.
Glaseado Mountain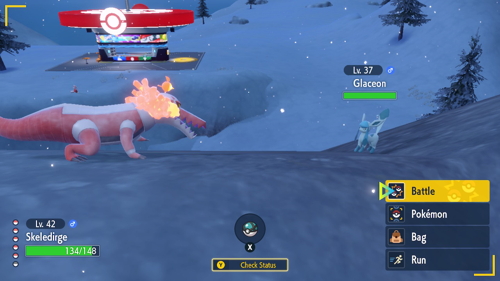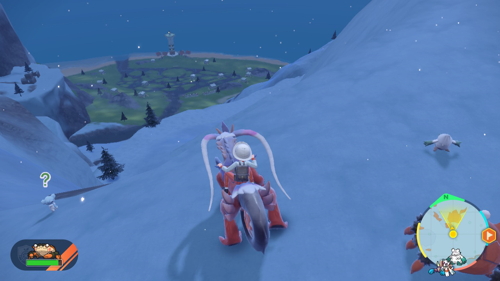 Keep heading up this path and you'll come across the Glaseado Mountain Pokémon Center pretty quickly. You'll now want to switch your destination on your map to the city of Montenevera. Now that we are in a snowy mountain, there isn't a clear dirt path we can follow. There is a giant mountain that is directly in our way, so we'll need to wrap around it to the north side. There are a number of trainers and a sign that should guide you in the right direction.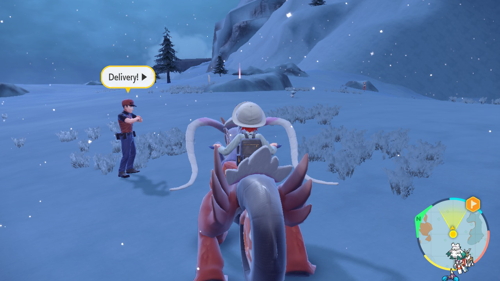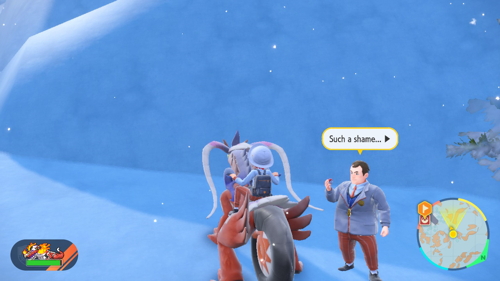 Follow your minimap and it will lead you to another steep slope that winds up the mountain. There are several trainers along this snowy path. It will eventually lead you to the city of Montenevera. Once you are all healed up and ready, you can head for the gym which is atop the large staircase in town. Once inside the gym, you'll run into your old teacher Jacq. He'll give you a Lucky Egg. When you are ready, speak to the woman behind the counter.
Montenevera Gym Test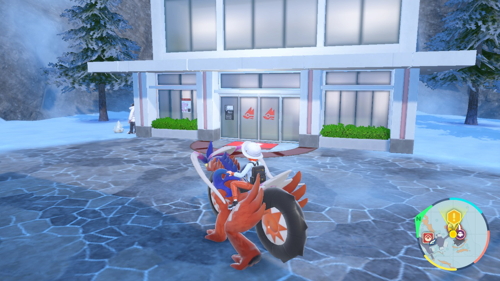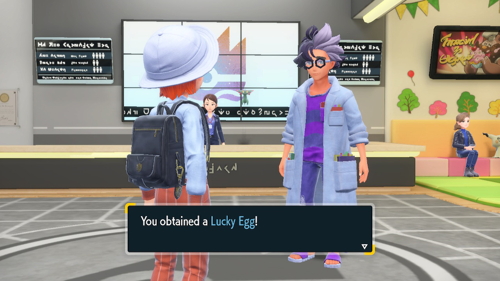 For this Gym Test, you'll need to entertain a crowd as the opening act before your gym battle. Head outside and speak to the man in front of the nearby stage. You'll learn that your opening act is a series of double battles. You'll need to win three in a row to win the challenge. Like the gym leader, these trainers will use mostly Ghost-type Pokémon. Go ahead and put your team in the order that you'd like and then accept the challenge.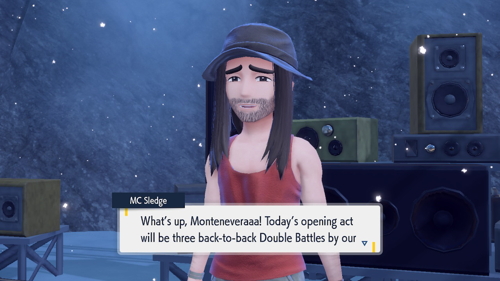 The first opponent is Gym Trainer Tas who has a Lv. 40 Greavard and a Lv. 40 Shuppet. Remember that Ghost-type Pokémon are weak to Dark and Ghost-type moves. When you defeat one of the Pokémon, the audience cheering for you will give you some stat boosts. After each battle your team will be healed as well. The second opponent is Gym Trainer Lani who uses a Lv. 40 Misdreavus and a Lv. 40 Haunter. The final battle is against MC Sledge himself. He'll send out a Lv. 40 Drifblim and a Lv. 40 Sableye. After you win your set will be over and you'll have passed the gym test. Heal up your team and head back to the gym when you're ready.
Montenevera Gym Leader Ryme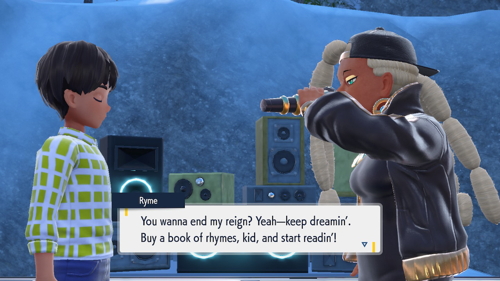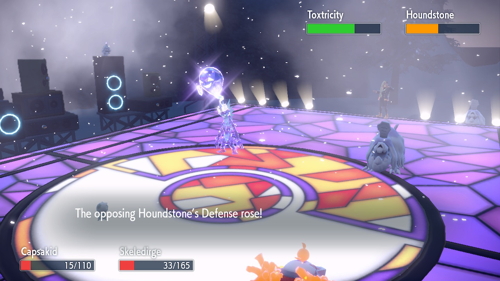 Speak to the gym clerk to kick off your battle with Gym Leader Ryme. She of course uses Ghost-type Pokémon. Like all of the trainers in the gym test, this is actually a double battle! She uses a Lv. 41 Mimikyu, a Lv. 41 Banette, a Lv. 41 Houndstone, and a Lv. 42 Toxtricity. The crowd watching the battle can give stat boosts to both you and Ryme, so keep that in mind. Mimikyu's ability ensures that it will tank the first hit, so plan ahead for that. She will Terastallize her Toxtricity, so make sure you do the same to keep up. This one is a little trickier than most previous gym battles, so make sure you come in well prepared.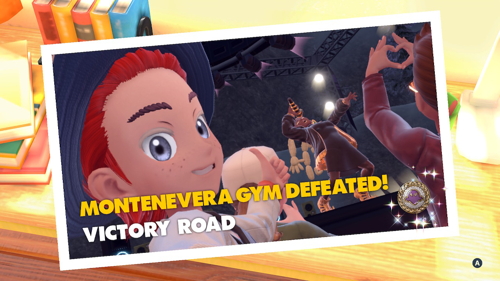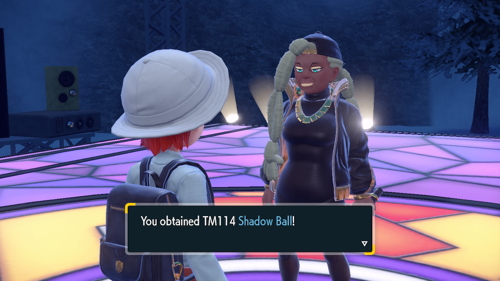 After you beat Ryme in the gym battle, you'll get the Ghost Gym Badge. It allows Pokémon up to Lv. 50 to obey you. She'll also award you with TM114 - Shadow Ball. Once it's all over, Elite Four member Hassel will be waiting for you in the gym. He'll pay you some compliments before heading out.
In the next chapter we'll be heading back to Asado Desert to defeat the next Titan Pokémon.
Back to Medali Gym Continue to Quaking Earth Titan