Home > Pokemon Scarlet and Violet Walkthrough > Chapter 11: Poison Crew Base
Chapter 11: Poison Crew Base
East Province (Area Three)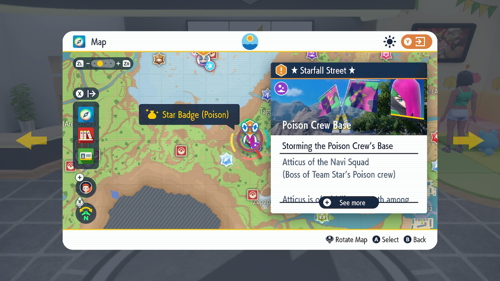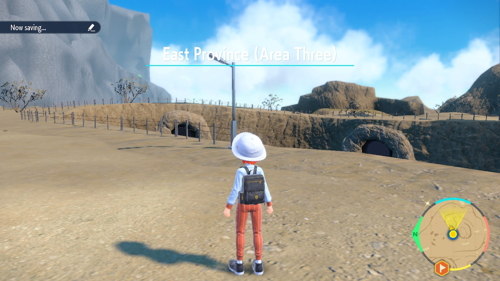 After reaching the half way point with 4/8 gyms and 3/5 titans complete, it's time to take out our third Team Star base as well. We'll be heading back to the east side of the map to the Poison Crew Base. Make sure to mark it as a destination on your map. If you've been following this guide the closest point you can fly to will be the East Province (Area Three) Watchtower, so go ahead and do that.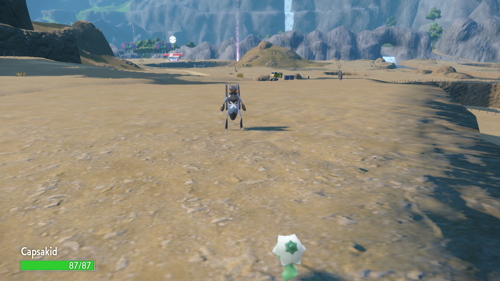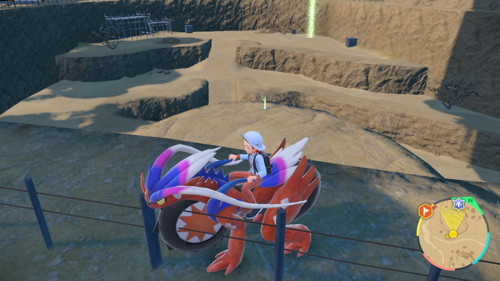 You'll find yourself back at East Province (Area Three) near where we defeated the Lurking Steel Titan. From the watchtower, you'll want to head northwest and follow the small dirt path here. As you travel, remember that Poison-type Pokémon are weak to Ground and Psychic types, so let that guide your training. This area is filled to the brim with mountains, mines, and caves that you can explore to find lots of useful items and new Pokémon. In the large mine near the path you can drop down to find TM104 - Iron Defense. Pretty soon you'll arrive at a Pokémon Center where you can get healed up.
Tagtree Thicket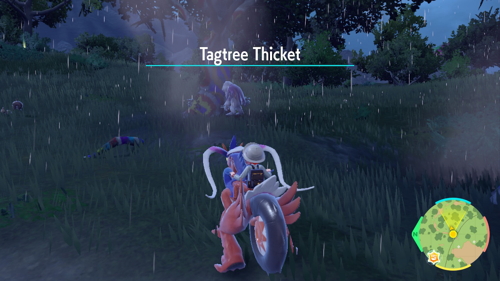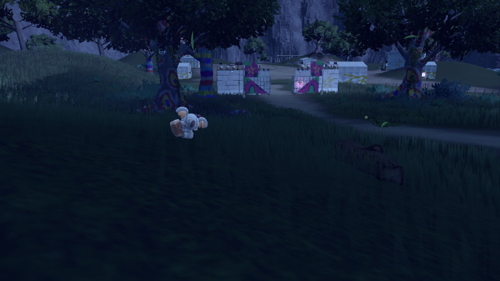 If you want to pick up some goodies and explore this area a bit before taking on the Team Star base you can, it's entirely optional. Skip to the next section below if you aren't interested. You can head west along the path past the Poison Crew Base. You can then cross the bridge to the north here and find another dirt path. There are some trainers and Pokémon in this area that you can train up against in preperation.
The path forks ahead, but if you take the northwest path you'll run into a mini-base for Team Star dropouts. If you speak to the leader here you can get the Sporty Cap (Star). You'll also find a copy of TM081 - Grass Knot and TM046 - Avalanche nearby. You can also find TM061 - Shadow Claw off to the left near a trainer in the meadow. You can take the narrow path through the mountains here and pick up some goodies from the rocky area seperated by the river from East Province (Area Three) if you'd like as well. Now head back to the south of this grassy area to take on the base.
Team Star Poison Crew Base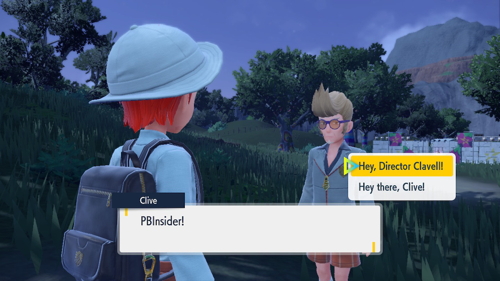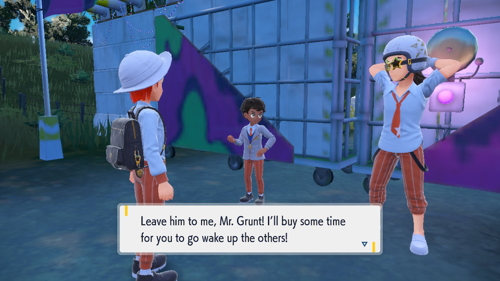 Head into the grassy area and a cutscene will begin with Clive. You're now right in front of the gates to the Poison Crew Base. Get your party and approach the gate for a battle with a very young man with some unknown involvement with Team Star. He has a Lv. 30 Gulpin and a Lv. 31 Shroodle. A strong Ground-type should make quick work of his team. After winning the battle, Clive will join you and then you'll get a call from Cassiopeia. They'll give you the usual speil about needing to defeat a bunch of the Navi Squad's Pokémon before you can face the leader. Make sure you've got the three Pokémon you want to bring in at the top of your Party and enter the gates.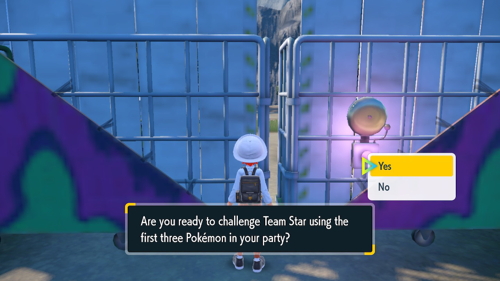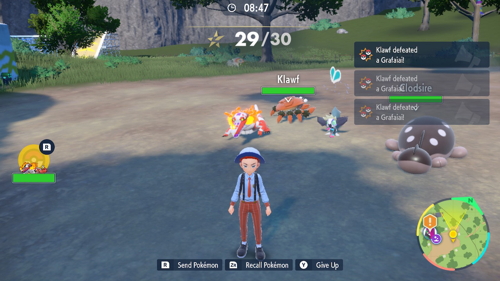 The strategy here is the same as the rest of the bases. You'll need to defeat 30 of their Pokémon in under 10 minutes using auto battles. Simply run around and unleash one Pokémon on each group of their Pokémon. You should be able to get it done in closer to two minutes. If you need to, you can also use the vending machines to heal your party. After this is finished, the Poison Crew will call their boss in for backup.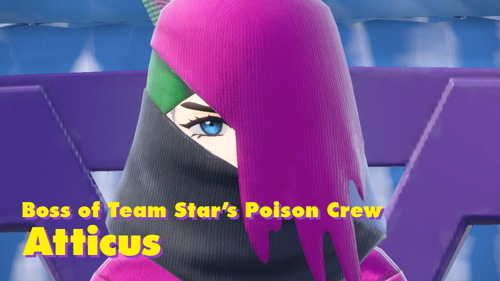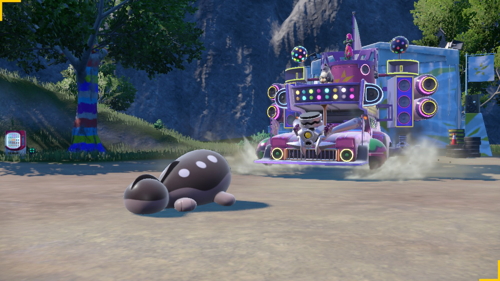 The boss of the Navi Squad and Poison Crew is named Atticus. He of course uses Poison-type Pokémon. He has a Lv. 32 Muk, Lv. 32 Skuntank, a Lv. 33 Revavroom, and a Lv. 32 Revavroom that's nicknamed the Navi Starmobile. This second Revavroom is the vehicle that Atticus is standing on and is pure Poison-type (as opposed to the other Poison/Steel Revavroom). It's a good idea to Terastallize when fighting the Navi Starmobile.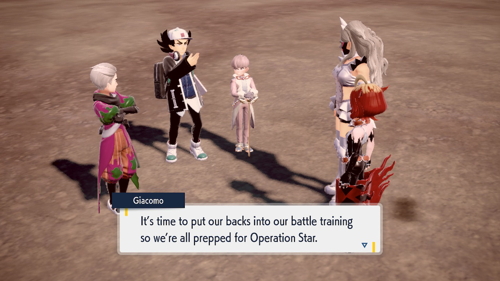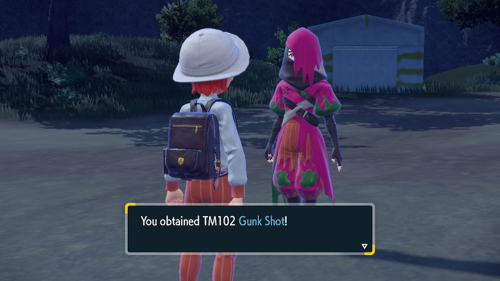 After winning the battle against Atticus, you'll get another flashback cutscene to the origin of Team Star. You'll then be awarded with the Poison Star Badge. He'll also give you TM102 - Gunk Shot. Afterward you'll get a little more backstory on Team Star. You'll then get a call from Cassiopeia who will give you 7,000 LP. Penny will also stop by and give you lots of Pokémon Materials.
We're now over half way done with each of the three storylines in the game! In the next chapter we'll be back to taking out gym leaders.
Back to Cascarrafa Gym Continue to Medali Gym