Home > Pokemon Scarlet and Violet Walkthrough > Chapter 12: Medali Gym
Chapter 12: Medali Gym
West Province (Area Two)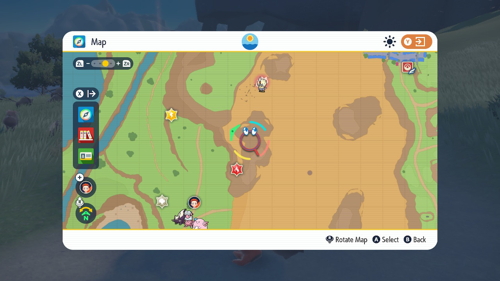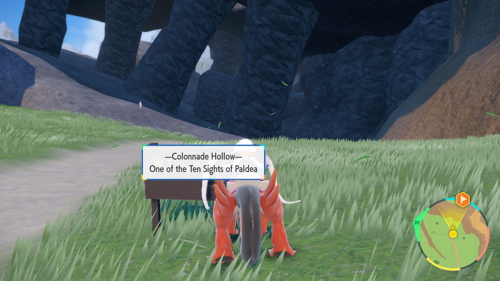 In this chapter, we'll be heading over to the town of Medali to take on the Normal-type gym. Medali is on the west side of the map near the middle. It's just northeast of Cascarrafa, so mark it as a destination on your map. There are several ways to reach it, but the most straightforward based on what we have access to is to fly to the Pokémon Center at Port Marinada.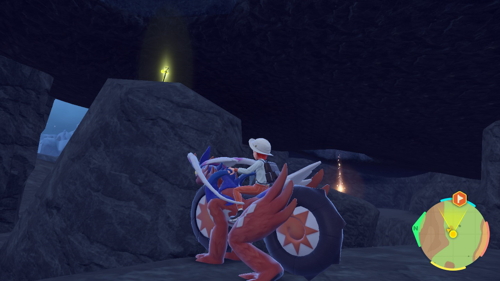 From this Pokémon Center, you'll want to head east on the dirt path. You'll come across some signs that point you in the direction of Medali by way of Colonnade Hollow. The path will take you through this hollow, which is a rocky area with a large overhang. There are plenty of new Pokémon and trainers to battle throughout this path. On some of the pillars here you can find TM116 - Stealth Rock and TM115 - Dragon Pulse.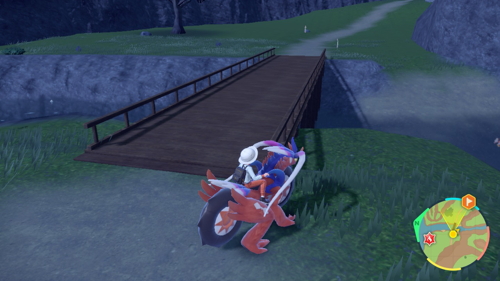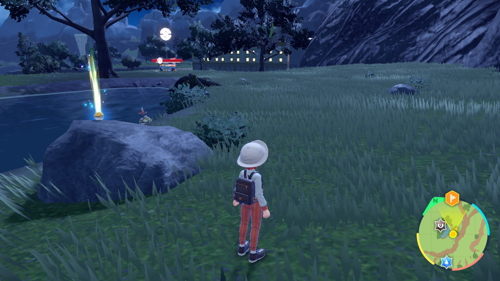 Keep heading east through Colonnade Hollow and you'll make it out back to a grassy area. Cross the bridge here and you'll see some signs that keep pointing you towards Medali. Keep following the path to get near the Pokémon Center. If you take a little detour by the pond you can find TM105 - X-Scissor. Afterward, make your way to the Pokémon Center and heal up.
Medali Gym Test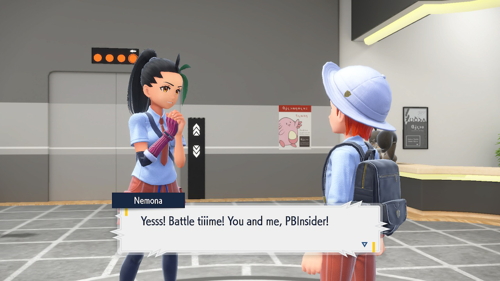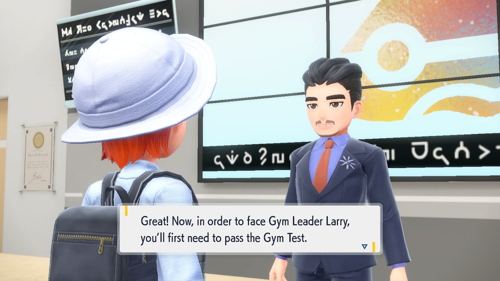 Once you make it to Medali, you can head straight for the gym. It's the tall building just ahead. When you enter Medali Gym, Nemona will meet you and act like she wants to battle. But it turns out you'll have to wait until after the gym battle to take her on. Instead, speak to the man behind the counter. He'll set you up with Gym Test, which is ordering a special secret menu item from the Treasure Eatery. You can either follow the steps here to figure out the secret on your own, or you can skip all this and we'll tell you the secret menu item below.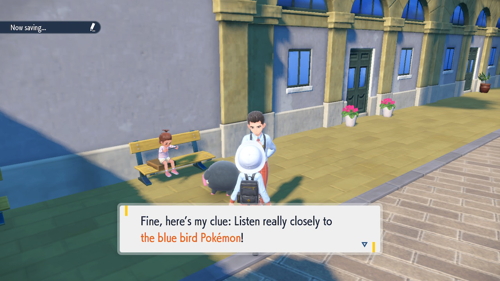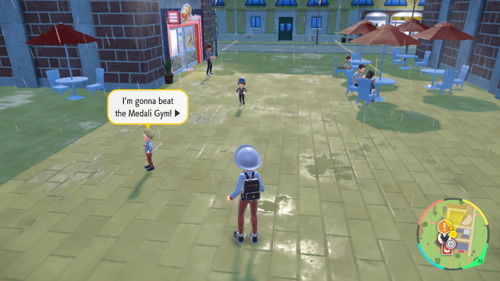 To figure out what the secret menu item is, you'll need to get clues from the other Gym Test participants around town. In order for them to surrender their clues you'll need to beat them in battles. There are three trainers to battle. Gisela is right across the street from the gym and has a Lv. 34 Ursaring. Adara is near the food stands and has a Lv. 34 Gumshoos and a Lv. 34 Greedent. Santiago is on a corner near the restaurants and has a Lv. 34 Dunsparce. The clues that you'll get are the following:
Find out how the regulars season their dishes.
Look for a dark spot surrounded by stairs.
Look for something that's the odd one out at one of the ice cream stands.
Listen really closely to the blue bird Pokémon.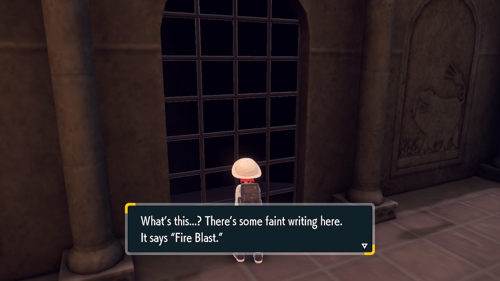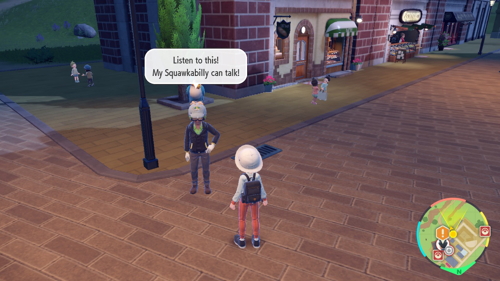 You can investigate each of these clues near the trainer who gave you the clue. Near Gisela you can walk down the stairs and check out the grated door. If you visit the ice cream stand near Adara you'll find an odd item on the menu. And if you listen to the blue bird on top of a man's head near Santiago you'll hear it's clue.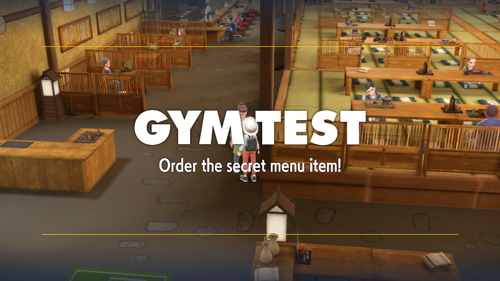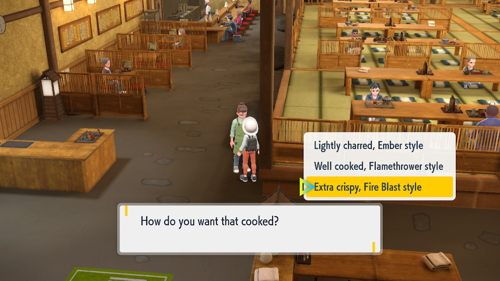 You'll then want to head for the Treasure Eatery, which is the restaurant in the standalone building near the East Pokémon Center. Once in the restaurant, you can speak to the office worker at the bar to get the solution to your own clue. Here are all the clue solutions:
Lemon
Fire Blast
Grilled Rice Balls
Meedyum! Meedyum!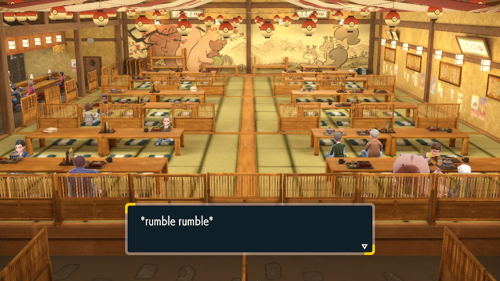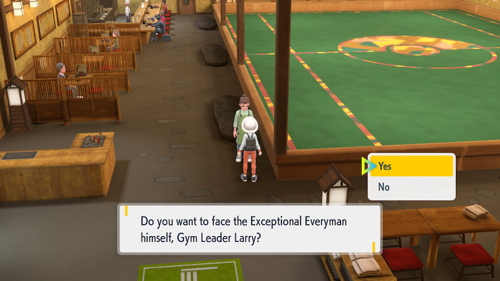 You can now speak to the waiter at the front of the restaurant to order the secret menu item. Answer his questions using the above clue solutions. When you put the correct order in, the restaurant itself will turn into a battle court. Does this just crush all those customers that were eating peacefully? Either way, you'll have passed the Gym Test. Rather than return to the gym, you can just speak to the waiter again to kick off the battle with the Gym Leader. So do this when your team is all healed and ready.
Medali Gym Leader Larry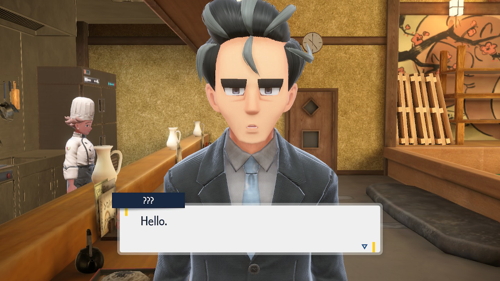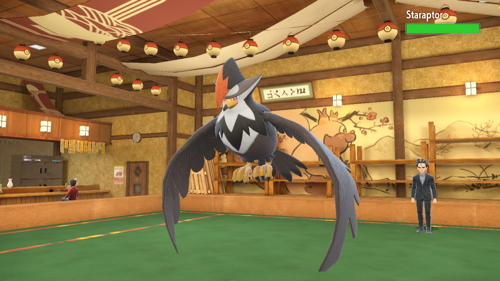 As it turns out, the Gym Leader Larry was in the restaurant the whole time, disguised as an office worker. I guess that's probably a joke about this being a Normal-type gym. Keeping that in mind, Fighting-type moves are your only chance for super effective attacks on Normal types. Although a Ghost-type Pokémon with moves of other types could prove very useful since it wouldn't be affected by any Normal-type moves.
In any case, Larry has a Lv. 35 Komala, a Lv. 35 Dudunsparce, and a Lv. 36 Staraptor. One annoyance is that his Komala will try to put you to sleep, so you'll want to take care of it quickly. His Staraptor will Terastallize, so it's a good idea for you to do the same to keep up. There's not much else to the battle, so just keep plugging away until you've won.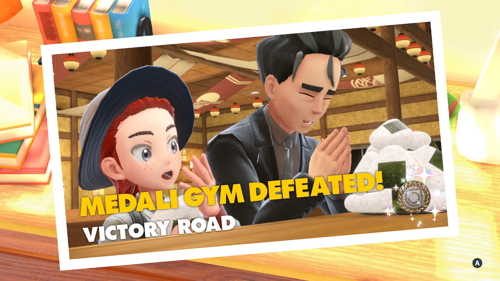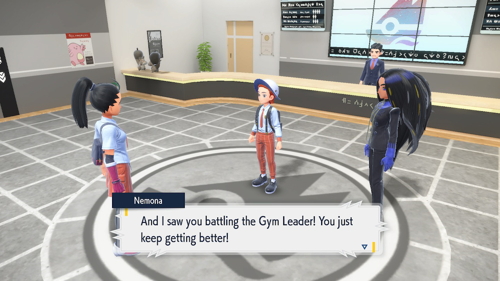 After winning, you'll be given the Normal Gym Badge. This will ensure that all Pokémon up to Lv. 45 will obey you. He will also hand over TM025 - Facade. He'll even buy you a meal at this fancy restaurant, since you didn't seem to really get the secret menu item you ordered. The Elite Four member Geeta will give you some praise after the battle just before Nemona barges in to interrupt. She's ready to battle you now and Geeta will be watching, so don't feel too much pressure.
Rival Battle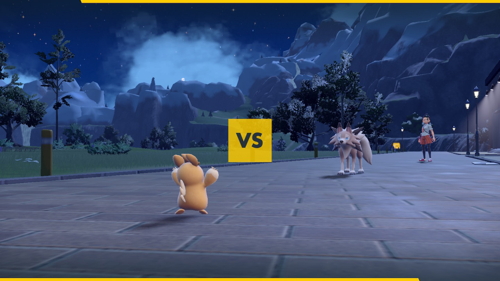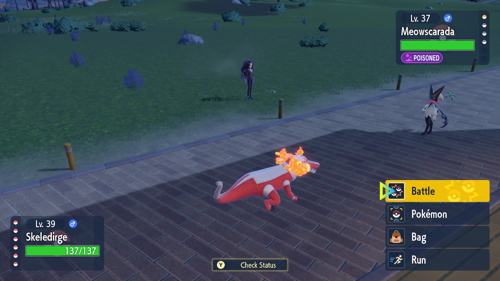 Geeta will explain a little more about how the Pokémon League works before you get started. She'll also heal up your Pokémon for you. She will use a Lv. 36 Lycanroc, a Lv. 36 Pawmo, a Lv. 36 Goomy, and a Lv. 37 Meowscarada/Quaquaval/Skeledirge. She will Terastallize her starter Pokémon. This should be perfect for you since you can do the same for your starter Pokémon and make quick work of it.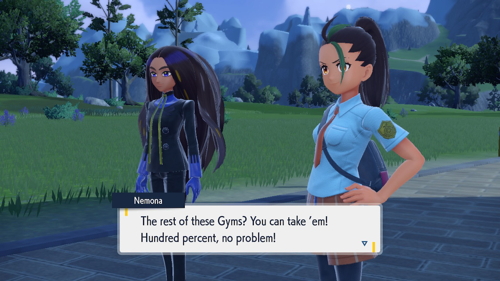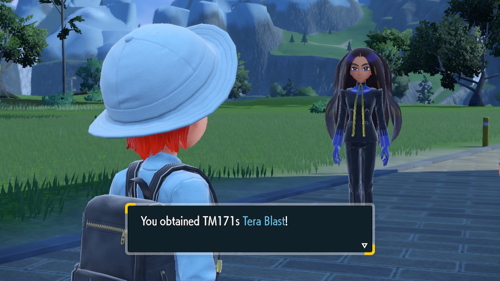 After winning the battle Geeta and Nemona will tell you how much faith they have in your ability to become the champion. You'll also get TM171 - Tera Blast. After all of this is done you'll be brought back to the gym and ready for the next challenge.
Next time we'll be heading over to the city of Montenevera to take on the next Gym Leader.
Back to Poison Crew Base Continue to Montenevera Gym