Home > Pokemon Scarlet and Violet Walkthrough > Chapter 19: False Dragon Titan
Chapter 19: False Dragon Titan
Casseroya Lake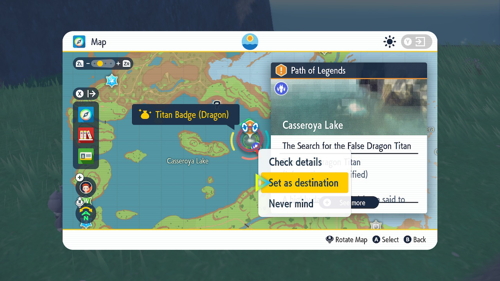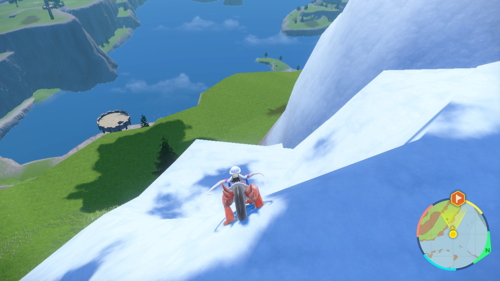 In this chapter we'll be looking to take out the False Dragon Titan, the final Titan Pokémon in the game. You can find it in the middle of Casseroya Lake in the northwest section of the map. Go ahead and set it as a destination. The quickest way to reach the location is by flying over to the Glaseado Mountain Pokémon Center.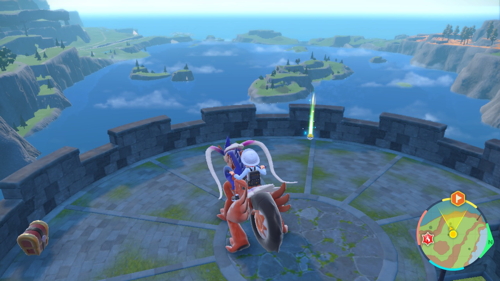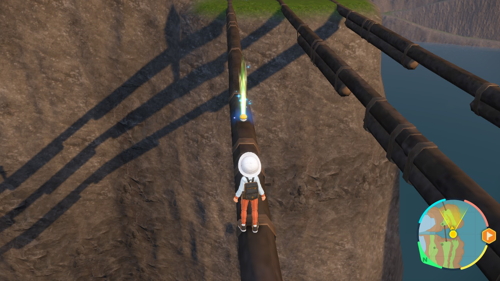 From here you can glide down the path on the mountain towards the marker on your map. Pretty soon you'll see the giant lake straight ahead, as well as a watchtower. Go ahead and glide down to the watchtower so that we can get back to this spot by flying in the future. You can also pick up TM141 - Fire Blast on top here. There are some trainers and items that you can find if you explore this grassy area here. If you venture out onto the nearby wooden bridges you can even find copies of TM122 - Encore and TM166 - Thunder.
False Dragon Titan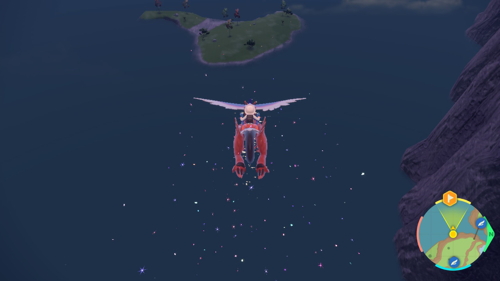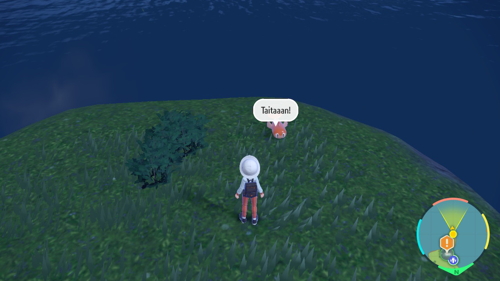 If you get close enough to the water from here, you'll get a call from Arven letting you know about the False Dragon Titan that is nearby. Go ahead and glide from up here all the way over to the closest island in the lake. If you don't make it all the way you can just swim there. When you get to the island you'll notice there are a bunch of fish Pokémon on the groudn with dialogue boxes. There is also a trainer here you can take out if you want. Go to the even smaller connected island and you'll notice that there is a larger fish that says "Taitaaan!" in his dialogue box. As you might expect, this is the Titan Pokémon. So interact with it when you are ready.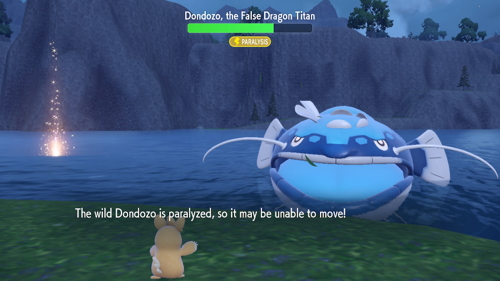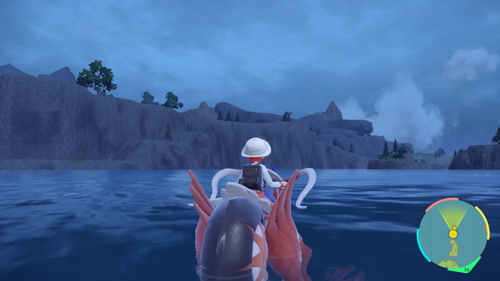 When you interact with this little fish, a much larger fish will pop out of the water. This is Dondozo, the False Dragon Titan. He is a Lv. 56 pure Water-type, so Grass and Electric moves are your best bet. Once you get Dondozo to very low health, he will sink back into the lake and run away. You'll now want to check your map again, since the location where he ran to is marked for you. It's in the rocky area on an island to the west.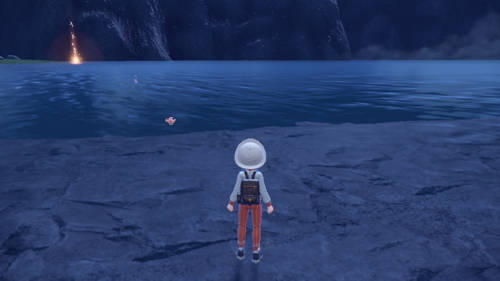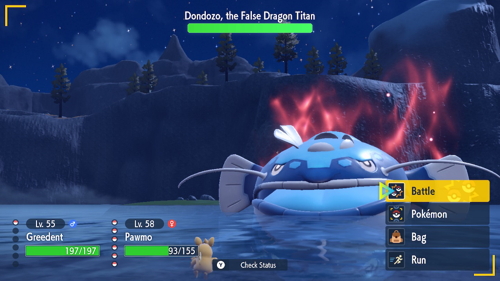 Once you get to this western island, you'll see the little fish waiting again. Once you approach it, Dondozo will appear again for another battle. This time you'll have Arven with you to help you out. Nothing else changed from the last fight, so just go ahead and take it out. As you might expect, Dondozo is in fact a false Titan. Once you defeat it, you'll need to also battle the real Titan.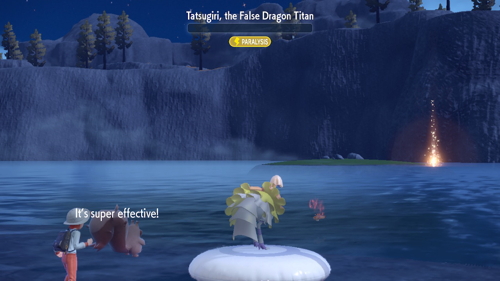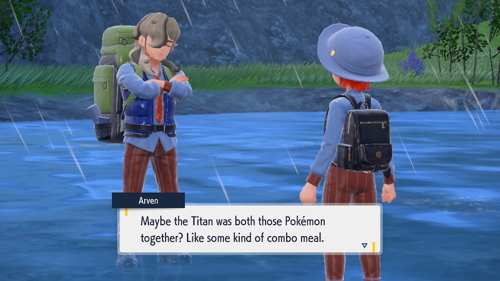 The true Titan is the original fish we found, the little Tatsugiri. Interestingly, it's still called the False Dragon Titan in this form. It may be much smaller, but it packs a meaner punch. Tatsugiri is Lv. 57 and is Water and Dragon type. This means that it is only weak to Fairy and other Dragon moves. Luckily, you'll have your team healed before this battle. There's not much else too it, you just need to defeat it in this double battle. Remember that if you haven't used it already, you should Terastallize against Tatsugiri.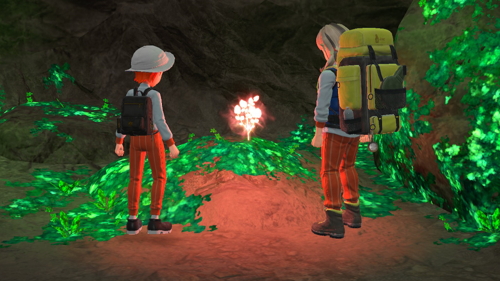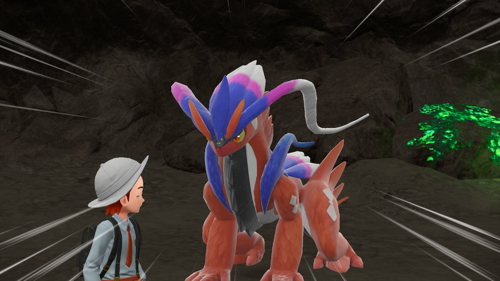 After you win the fight you'll enter the final cave with Arven. Inside you guys will find some Spicy Herba Mystica. You'll also get the Dragon Titan Badge. Arven will make a sandwich with the Herba Mystica, which Koraidon/Miraidon will partake in. This final power-up will grant them the ability to climb up vertical surfaces. Arven will then share some of the herb with Mabosstiff who will feel well enough to play ball with Arven.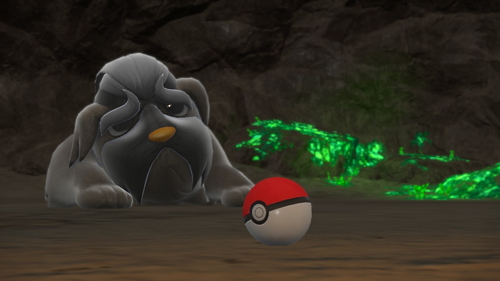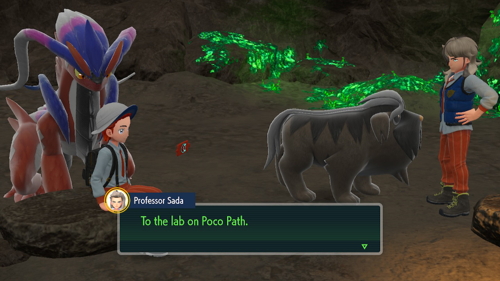 After this touching cutscene, you'll receive a call from Professor Sada. She lets you know about your partners new ability. She also tells Arven that he needs to take you back to the lighthouse at Poco Path so that you can access the professor's lab. As it turns out, Professor Sada is actually Arven's mother. It seems that this is there first time reconnecting for some time.
Catching the Titan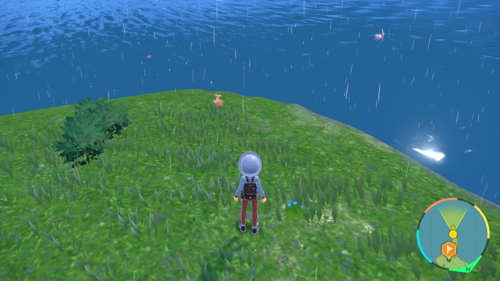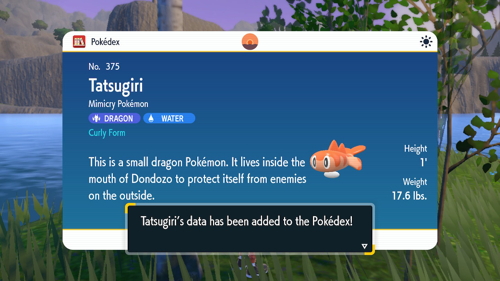 After defeating the Titan, you can return to the site of the original battle for a chance to catch the False Dragon Titan. It's on the little island on the east side of the lake, tucked away in the corner. It's a Lv. 57 Tatsugiri with max height and weight and a special Titan Mark. It also has 30 IVs for all of its stats. Make sure to save before engaging the battle and be very careful not to knock it out, as it will not respawn (unless you reset to a save).
With all of the badges collected for each of the games storylines, we'll now be looking to close out each storyline with the final battles and challenges. In the next chapter we'll close out the Path of Legends storyline with Arven and Professor Sada.
Back to Fighting Crew Base Continue to Path of Legends