Home > Pokemon Scarlet and Violet Walkthrough > Chapter 23: The Way Home
Chapter 23: The Way Home
Zero Gate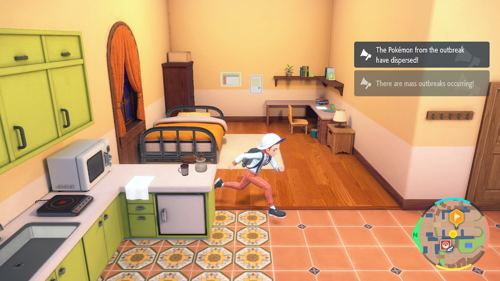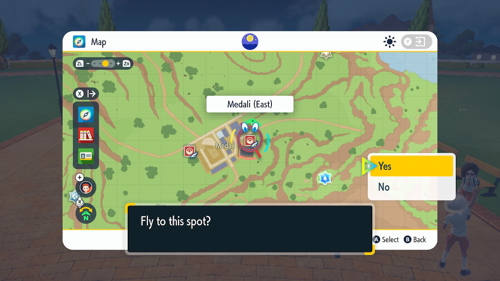 With the three main storylines of the game complete, we just have one more objective to complete the main story. We need to wrap things up and tie them together in "The Way Home". To kick it off you'll need to head for the Zero Gate, which has been highlighted on your map. Set it as a destination and then fly to the nearby Medali Pokémon Center. Head up the path towards your marker once you get there and heal up.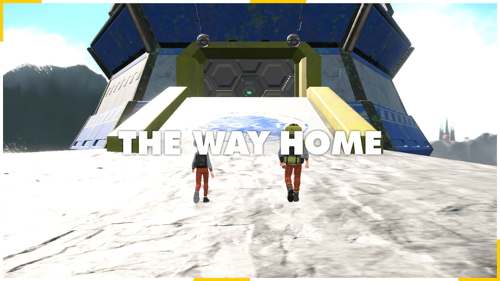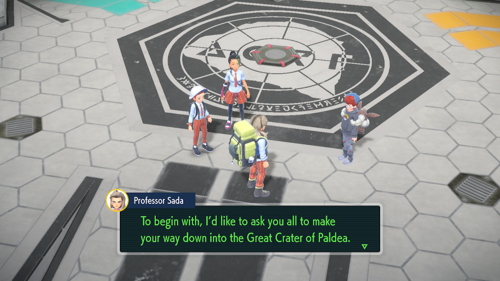 Once you get to the Zero Gate a cutscene with Arven will play. This will officially kick off "The Way Home". Once inside, you'll be joined by Nemona and Penny in addition to Arven. In another cutscene Professor Sada will tell you to proceed to the Great Crater of Paldea by way of the elevator that opens in front of you. Head through to the elevator and another cutscene will play where you descend into the crater.
Great Crater of Paldea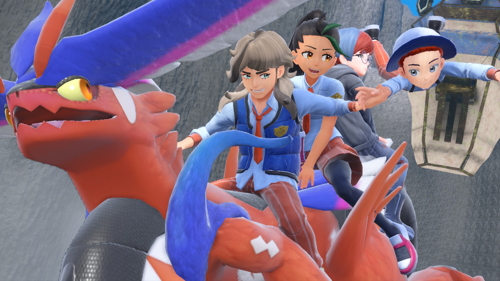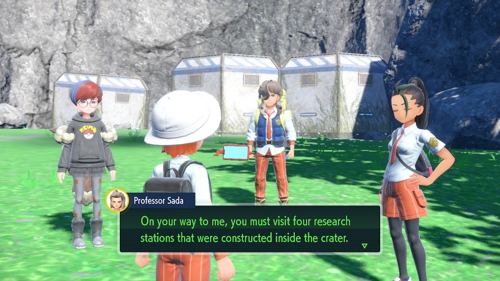 Once you get down to the crater floor, you'll get another call from Professor Sada. She'll let you know that you need to disable four locks at four research stations down here. You can't ride on Koraidon/Miraidon, so you'll need to just run down this grassy spiral. As you do there's lots of items you can pick up including some TMs. Your three buddies will follow you and give some interesting commentary as they do.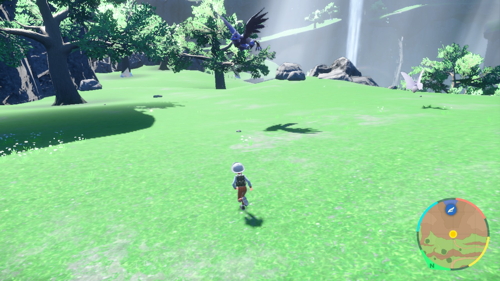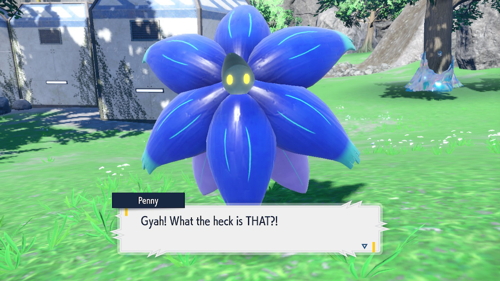 Continue along the path and you'll soon reach your first Research Station. However, it's being guarded by a Lv. 62 Glimmora. You'll have to defeat this Rock/Poison type Pokémon in a double battle with Nemona. After defeating the Glimmora you can head into the Research Station #1. Once inside, follow the professor's instructions and disable the lock using the screen. You can also take a rest in the nearby bed to heal your Pokémon if you'd like.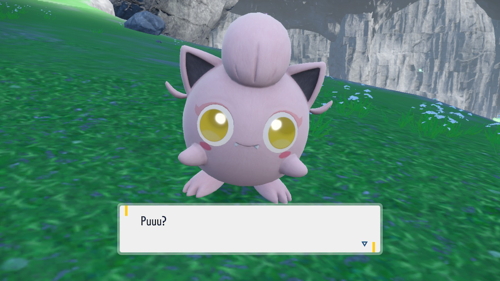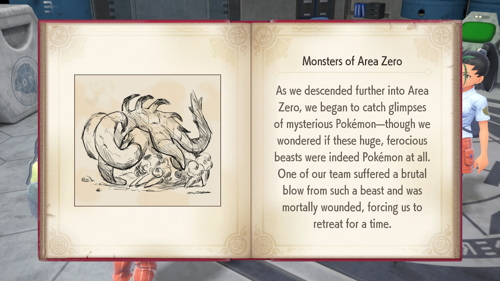 Keep going along this path, collecting items and battling any Pokémon you'd like as before. Arven will give some backstory about the relationship with his parent as you do. The path is very linear once again, so just keep going until you reach Research Station #2. This time you'll need to battle a Lv. 62 Scream Tail, which looks like a strange form of Jigglypuff. It's a Fairy/Psychic type and you'll once again have the help of Penny in this battle. Once inside the research station, Arven and the Professor will explain that these creatures you are battling are ancient Pokémon that lived in a distant past. Afterward, you need to once again disable the lock via the panel in the room.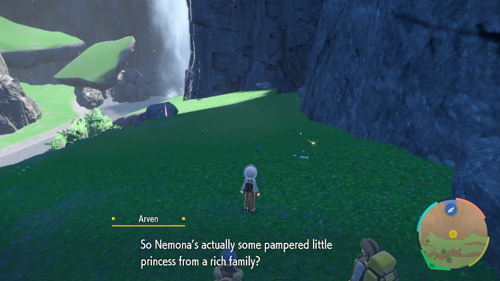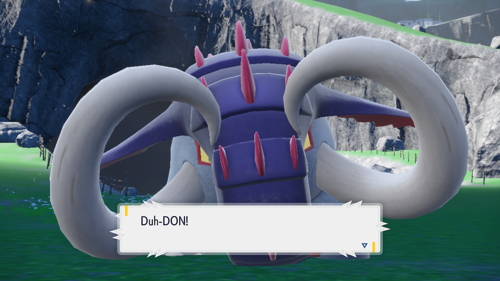 With two locks disabled, Arven will give you the Scarlet/Violet Book. It will seemingly become important shortly. Heal up if needed and then head back out down the path again. After following the linear path and listening to further dialogue about troubles with parents, you'll come up on Research Station #3. Here you'll need to battle either Great Tusk or Iron Treads, depending on the version of the game you are playing. It will be Lv. 62 and you'll have Arven's help to take it out. After defeating it, head into the research station to hear an explanation about how Koraidon/Miraidon was the first Pokémon that the Professor retrieved from a past time. Afterward, disable the next lock on the nearby screen and heal up in the bed if needed.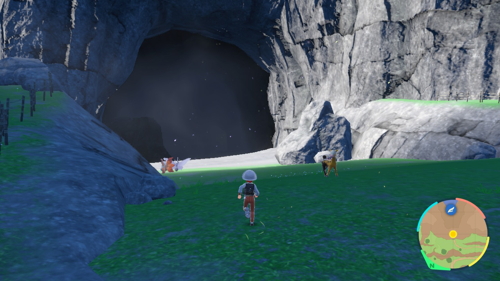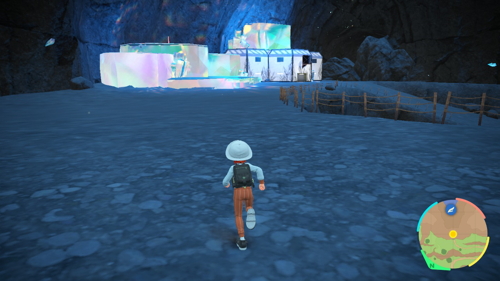 Head back out down the path, this time into the very large cave entrance nearby. Inside this cave you'll find plenty of this ancient Pokémon species, so go ahead and catch some if you'd like. When you get a little further in another cutscene will play and you'll overlook a cave system full of crystals. There are a couple forks in the path, but they just lead to various items. Just continue on the main path and you'll soon reach Research Station #4.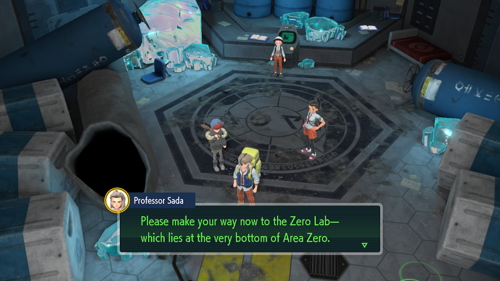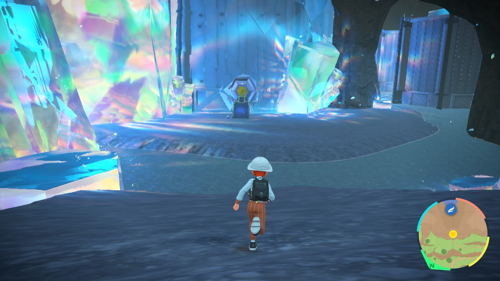 Once you are inside the station, Professor Sada will call but something seems weird with the signal. Go ahead and disable the final lock on the screen here anyway. Heal up if you need and then head back out back on the path. Keep descending down along this winding, narrow path. There are plenty of good items to pick up along the way. Pretty soon you'll narrow in on the Zero Lab.
Zero Lab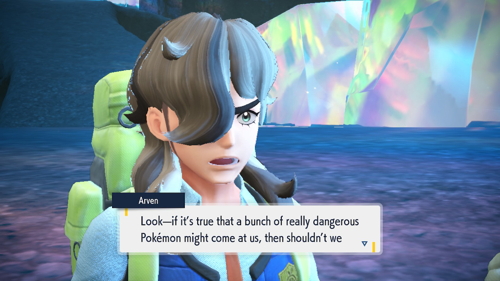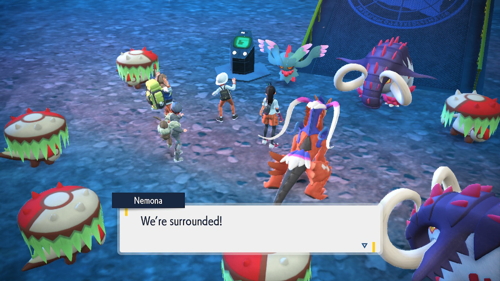 Once you arrive at the Zero Lab you'll get a another call from Professor Sada. She warns you that you'll be confronted with dangerous Pokémon when you open the gate. When you try to open the gate, Arven will encourage you to try to let Koraidon/Miraidon out again. Once you open the gate, another Koraidon/Miraidon will come out! While it seems like it is about to attack, it changes it's mind and retreats back to where it came from. Instead, a slew of other ancient Pokémon will attack you instead.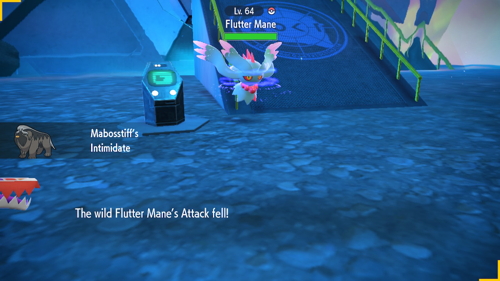 Your first battle will be with Nemona against a Lv. 64 Great Tusk/Iron Teads. Your next battle will be with Penny against a Lv. 64 Brute Bonnet (Grass/Dark). You'll then need to face off against a Lv. 64 Flutter Mane (Ghost/Fairy) with Arven. After winning these battles, Arven will volunteer to stay and fight off the rest while you go and venture into the Zero Lab.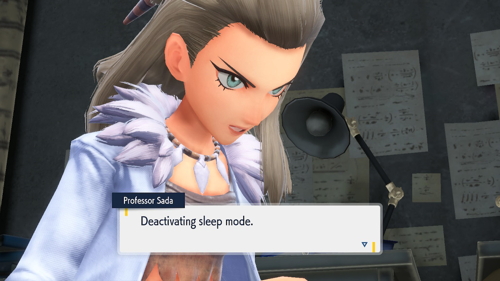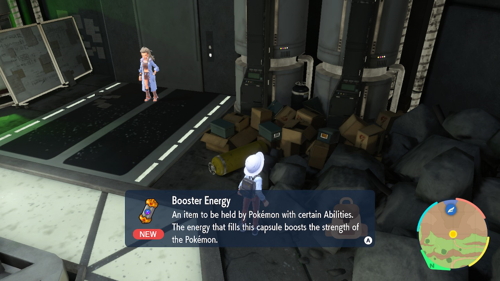 Once inside the lab, you'll encounter Professor Sada, who doesn't seem to be fully human. They confirm this on the spot, that the real professor is actually dead and that they are a robot with the professor's memories. They claim they need you to stop the time machine that the original Professor created. When you are ready, approach the AI Professor and step inside the elevator.
Final Battle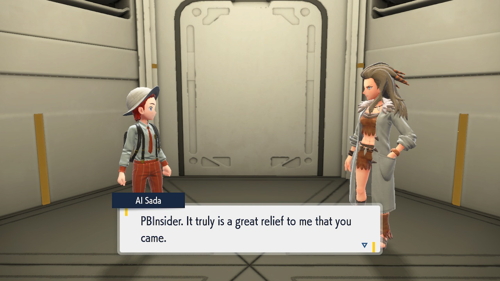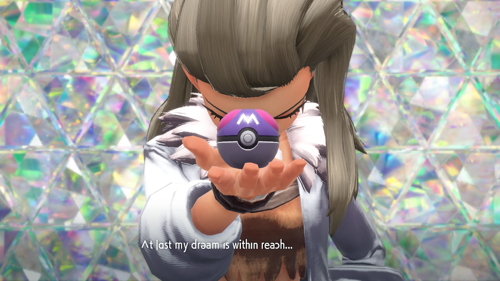 After a trip down the elevator where the AI Professor provides some additional context, you'll arrive at the bottom floor. When you get here, a pedestal will drop down from the ceiling. Because of how the AI Professor is programmed, they will battle you as soon as you try to stop the original plan. Approach the pedestal and place your Scarlet/Violet Book there. The final battle will begin!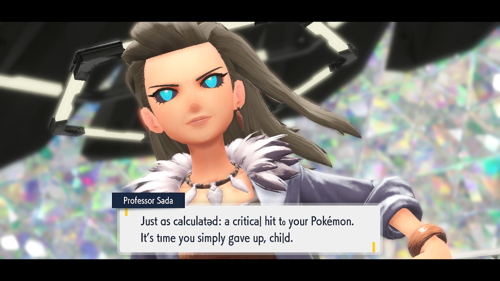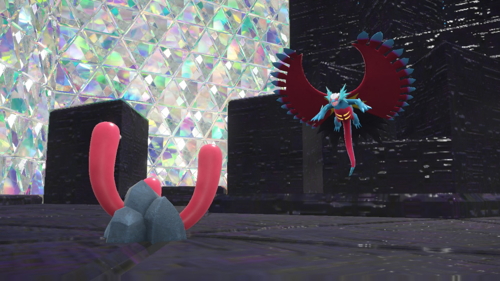 The AI Professor has a full team of powerful ancient Pokémon. She has a Lv. 66 Slither Wing (Bug/Fighting), a Lv. 66 Brute Bonnet (Grass/Dark), a Lv. 66 Sand Shocks (Electric/Ground), a Lv. 66 Flutter Mane (Ghost/Fairy), a Lv. 66 Scream Tail (Fairy/Psychic), a Lv. 67 Roaring Moon (Dragon/Dark).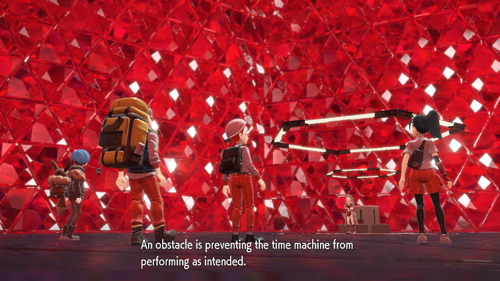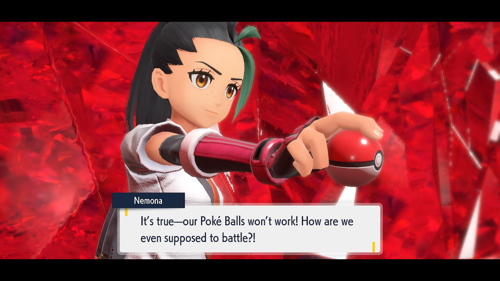 After defeating the AI Professor, you will being a battle with the "Paradise Protection Protocol". Really this is a battle with the legendary Pokémon of your version of the game, either Koraidon or Miraidon. Because there is an electrical signal jamming your Pokéballs, you can't actually send a Pokémon out to battle. Keep selecting the "Battle" option anyway. After going through the dialogue for each of your allies, you might notice a small vibration. If you check out your "Pokémon" you'll notice your Koraidon/Miraidon can be switched into battle!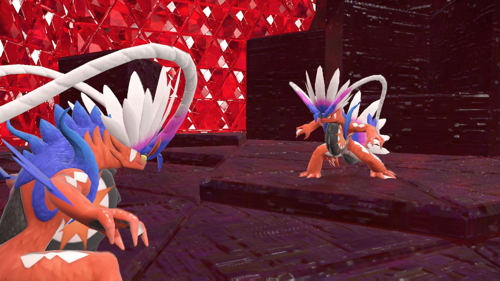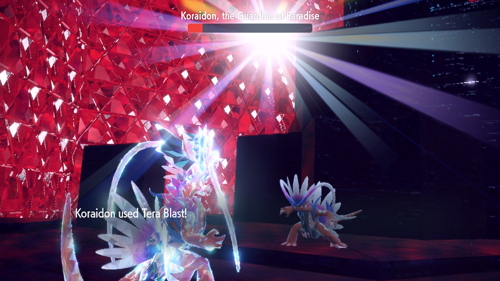 Start out by battling normal, just try using your most powerful moves, although they won't do much. At some point the opposing Koraidon/Miraidon will likely nearly wipe you out, but you'll be left with a little HP. At this point, you'll gain the ability to Terastallize. This is important because you know a move called "Tera Blast" which is your key to success. Use that move a few times and it should be enough to win you the battle.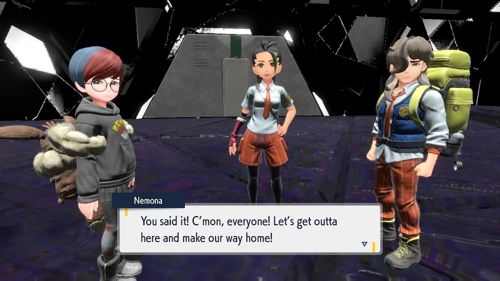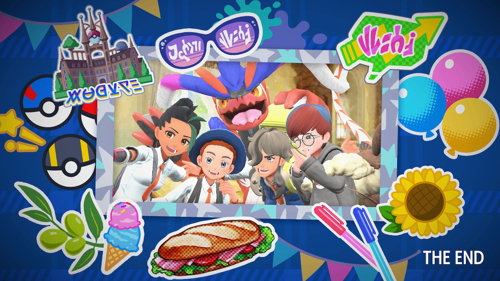 After the epic final battle, the Professor will come up with a final plan to put an end to the time machine. They will journey back to the time of the ancient Pokémon themself, thus closing it off for future use. After another emotional cutscene with your pals, you'll leave Area Zero after having saved all of Paldea. Although it's not exactly clear what you were saving it from, the ancient Pokémon seemed pretty cool and mostly harmless. Nevertheless, after the next cutscene plays, you will have officially complete the main story of Pokémon Scarlet and Violet! Congrats, and let the credits roll...
Back to Victory Road Continue to Post Game